Rihanna is famous for having many unique hairstyles. Rihanna hairstyles are definitely what many girls desire to try.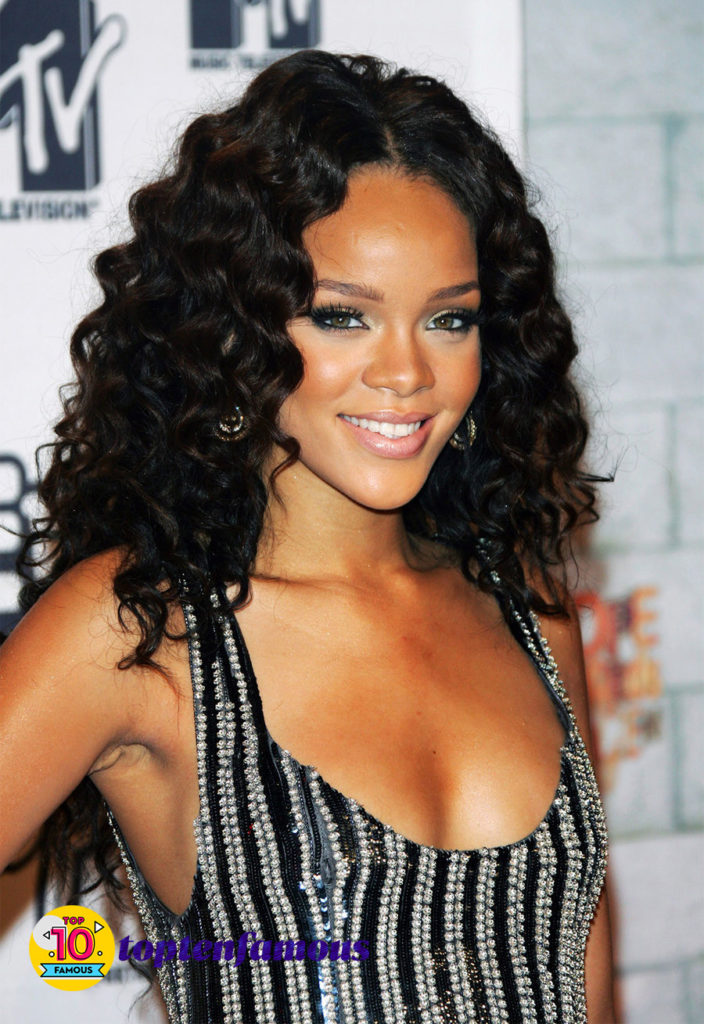 At the time of debut with her debut single "Pon De Replay" and winning second place in the 2005 Hot 100 chart, Rihanna was still loyal to her long, wavy curly hairstyle. Gradually, she transformed diverse and full of personality with only her hair.
Besides a series of popular music products, great success, the most brilliant music career in the entertainment industry, female artist Rihanna also left many impressions through interesting hairstyles that not everyone dare to try for over 10 years.
She always knows how to refresh herself every time, no fear or flinch when trying many pioneering hairstyles for women everywhere. Strong, powerful and interesting personality are the things about Rihanna.

In 2006, despite the world chasing rebellious lip colors, Rihanna of the early days kept her appearance as simple as possible in curly black hair and gentle makeup at the MTV Europe Awards.
Rihanna and her greatest short hairstyles
Only a year later, she appeared and made "shake" the whole world because of her super-cool bob hair. Thanks to this hairstyle, both Rihanna and her music products quickly received more attention. In the middle of a vibrant market that everyone wants to stand out, it's strange that this hair can be considered as a powerful lever for the singer.
The spirit of willingness to renew itself is evident in each of Rihanna hairstyles. Thanks to the sharp beauty, personality, pixie hair model can not make it difficult for the A-list star of the world.
In 2010, RiRi attracted all eyes when shaving the sides of the hair, the top of the head is long and dyed light. This style is so impressive and interesting that almost a decade later, hair stylists still find ways to transform and "cook" in many different styles based on this unique formula.
Rihanna and her famous red hair
Also in 2010, Rihanna was stunned by her appearance with long, straight red hair. With this color, how could it be submerged among the crowd at a time nearly 10 years ago? Once again she proved she was not afraid of any change. Perhaps even more spectacular changes are even more exciting and exciting!
Rihanna is a testament to the phrase "borrowing men's style does not mean that you will lose your femininity". She looks like a "living doll" thanks to her attractive, dreamy and seductive beauty despite her short tomboy hairstyle.
It only takes a long time for braids but every time Rihanna has to choose a unique style like this. Although having a hairstyle and dark lip color, Rihanna still stands out at the iHeartRadio Awards 2014. Up to now, there are still a few celebrities who have applied this hairstyle of female artists.
At the launch of the Fenty Puma x Rihanna brand, Rihanna appeared in a simple but still charming outfit. In addition to hair, fashion is also one of the impressive and interesting things in Rihanna.
Braided hairstyle with Hip-hop style and menswear made RiRi "cooler" than ever. If not Rihanna, which girl would dare to pioneer such styles?
Attending the prestigious Grammy event in 2018, Rihanna returned with her ruffled hair. However, she did not look as rustic as when she first joined the showbiz, but was more luxurious and sexier.
Please follow and like us: