The pop star has dated 21 guys until now, but who is Britney Spears boyfriend at the moment? Recently Britney has been showing off many romantic pictures with her younger boyfriend, Sam Asghari.
In the picture, the blonde female singer seems extremely happy and comfortable in the solid arms of her 21st boyfriend until now.
Sam Asghari is not a very famous name. The handsome male model with a strong body is known only after he co-starred in Britney Spears' music video Slumber Party with Tinashe.
In the MV that has reached more than 60 million views, Sam Asghari plays a man who is chased by many girls and is "seduced" by Britney Spears.
Interestingly, Sam Asghari has co-starred with Britney Spears in many other music videos such as Work From Home. This might be the reason Britney and her current boyfriend have the opportunity to meet and decide to make a public love affair.
The first time Britney and Sam were dating when they both went to a sushi restaurant and their pictures were on an Instagram account by marcmalkin. Immediately, Sam asked this person to delete the photo, but since then, fans have rumored that the two are in love.
However, at the beginning of February this year, the couple increasingly published many photos together. Even on her Instagram page, Britney Spear posted a photo of her son's birthday cake, accompanied by a photo of her and Sam together with the caption: "My child's birthday".
Publicly the love story with Britney Spears, the guy born in 1994, Sam Asghari "filled in" his name in the 21st place in the list of lovers who have dated a blonde singer.
Sam Asghari was born in Persia and moved to America at a young age. In addition to modeling, Sam is currently a fitness trainer with an Instagram page with more than 164,000 followers.
List of 21 men who have been boyfriend of Britney Spears include Reg Johnson, Jason Geddert, Justin Timberlake, Tom Brady, Fred Durst, Columbus Short, Jason Alexander, Kevin Federline, JR Rotem, Daimon Shippen, Issac Cohen, Howie Day, John Sundahl, Criss Angel, Adnan Ghalib, Jason Trawick, David Lucado, Charlie Ebersol, Harry Morton, and now Sam Ashgari.
Reg Jones is Britney Spears' first love. The love story lasted for 2 years when she was 14 years old. Then Britney decided to break up with her boyfriend to enter a music career. Share with Us Weekly, Reg said that he was the person who took her virginity.
Meanwhile, Justin Timberlake, the famous male singer who wrote Cry Me A River for Britney, also had 4 years of attachment to her. Both have known each other since childhood, when they joined Mickey Club of Disney label. During the period 2000-2002, Britney and Timberlake were considered the hottest couple in the entertainment industry when their names were at the peak.
Britney's sneaky love affair with her choreographer, Wade Robson, lasted for two years. It took place while she and Timberlake were still passionate. This love story was an important milestone. Since then, Britney abandoned the pure image and moved into a rebellious period.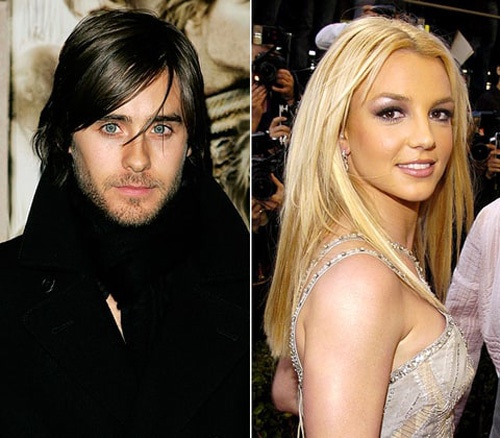 The case of Jared Leto is quite special. No one is sure whether he was Britney Spears boyfriend or not. The two have never acknowledged this. But she was repeatedly caught overnight at the handsome actor's house. They met 3 times a week and many times Britney cooked for Jared Leto. This has made people believe he is closer than Britney's best friend.
Columbus Short was the sixth boyfriend of Britney Spears. However, he was just the "one-night love" of the singer at that time. He admitted Britney was too attractive and hot; even because of her, he decided to divorce his pregnant wife. So far people still believe that the love story between him and Britney was too quick.
Jason Alexander is her first husband, but just for exactly 1 month (from January 2004 to February 2004). In 2004, Britney shocked the entertainment industry when she announced her marriage to Jason Alexander. It was after a party night in Las Vegas. Britney Spears and this boyfriend used to be old friends. The two met again and excitedly drove straight to a small church for the wedding ceremony.
Britney was also in shock when the paparazzi had her sensitive images and private life story. Dating with Britney, but Adnan Ghalib always takes advantage of going out with her for photographers to take pictures. He even released the news of her pregnancy to polish her name.
Before falling in love with her current boyfriend, Sam Ashgari, Britney once dated Harry Morton, a successful businessman. With his romantic looks and wealth, Harry Morton also dated famous Hollywood girls like Lindsay Lohan and Paris Hilton.
Please follow and like us: