As someone who is crazy about tattoos, Demi Lovato has 25 body art tattoos. Demi became famous quite early from the launch of the Disney house. She faced many temptations in a world like Hollywood. After years of addiction and psychological crisis, Demi Lovato has a special way of reminding herself through tattooing.
Many tattoos of Demi Lovato show her strong will to live a happy life. Phrases like "I'm a warrior", "Stay strong", "Let go" have illustrated this lifestyle.
Demi also has a few tattoos to remember her special things such as the Roman alphabet on the side of the birth date of relatives such as Demi's mother, two sisters, stepfather, and father. She also tattooed 12 birds flying up in her forearms to represent the 12 detox steps she used to take.
Dreamcatcher
Lovato is no stranger to expanding and evolving her older tattoos. She got her first — "You make me beautiful" on her right side of her rib cage — in 2008, then added the two feathers just below the quote a few years later. In 2016, she visited Bang Bang studio in New York to finish off the design with a massive dreamcatcher.
Feather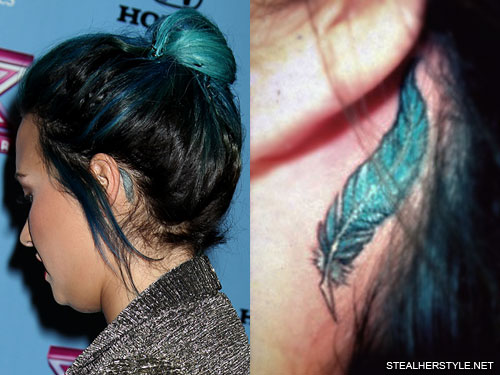 Lovato added the feather tattoo behind her ear while on a tour bus for the Warped Tour festival back in 2010. She later admitted to Hollywood Life that the design doesn't really mean anything; she just got it because it was cute.
Stay Strong
After finishing treatment for "emotional and physical issues" in early 2011, Lovato added the words "stay" and "strong" to each of her wrists, respectively. Not long after, Lovato opened up about her struggle with eating disorders and self-harm, explaining that the tattoos are a message to literally stay strong as well as covering physical scars on her wrists.
Rose cover-up
A few months later, Lovato added a lip imprint to her left wrist, right underneath the word "stay," with a few of her friends. By 2015, Lovato had the kiss mark covered up with a rose. She added a second rose to the cover-up tattoo a year later.
Cross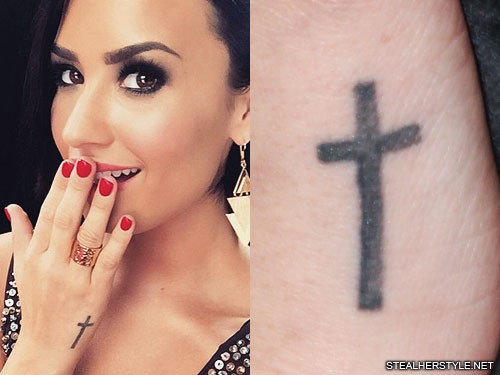 Lovato also added a black cross to the outside of her right hand as a tribute to her faith in 2011.
Faith
Lovato got this straightforward tattoo in late 2011 on her right arm, reportedly alongside a friend she met in treatment earlier that year.
Let Go & Let God
Lovato waited nearly a year to add her next quote tattoo. Fans started to notice the ink in late 2012, spotting the words "let go [and]" on her right foot and "let God" on her left.
Flock of Birds
One of Lovato's most recognizable tattoos — a flock of 12 birds on her right arm — came less than two months later, courtesy of Kat Von D. Lovato later explained that the number of birds, which she chose at random, was a happy accident she now considers meaningful and representative of the Alcoholics Anonymous 12-step recovery program she's been a part of.
Now I'm A Warrior
In 2013, Lovato visited Bang Bang again to add "Now I'm a warrior" to the back of her shoulder, a snippet of lyrics from the song "Warrior" off her 2013 eponymous album Demi. "[The tattoo] was kind of like a tribute to releasing the album as well as overcoming some really, really difficult things in my life," she later explained on Late Night with Jimmy Fallon.
Outline of Africa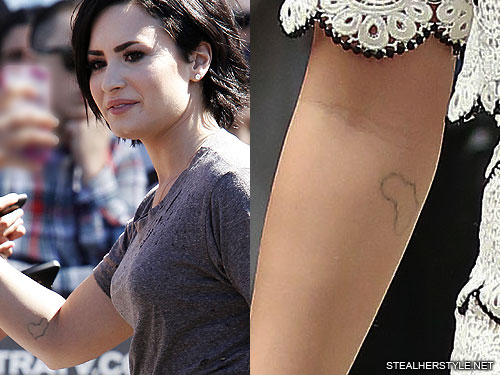 Lovato got a delicate outline of Africa on the inside of her right arm just after spending her 21st birthday in Kenya.
Roman Numerals
She added five dates in Roman numerals to her left ribcage in 2014. This signifies the birthdays of her mother Dianna, her older sister Dallas, her younger half-sister Madison, her step-father Eddie, and her biological father Patrick.
Buddy Was Here
In 2015, Lovato's dog Buddy tragically died after a coyote reportedly got into her backyard. Not long after sharing the news, Lovato got the words "Buddy was here" in child-like handwriting on the inside of her left foot. By 2019, she added another tribute to the late pup in the form of a detailed portrait tattoo created by L.A. tattoo artist Dr. Woo just above the older ink.
Lion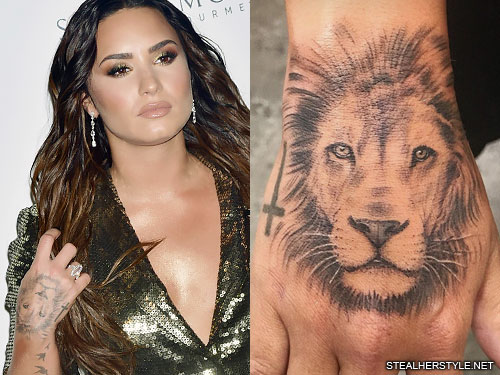 Demi Lovato got this lino tattoo in April 2017. This is because her zodiac sign is Leo. McCurdy, the artist behind this design, wrote on his Instagram about this tattoo: "Sometimes the canvas makes the art."
Rose
In January 2019, Demi Lovato went to L.A. artist Daniel Winter. Here she got a tiny rose tattoo on the inside of her finger. "Obsessed," she shared on her Instagram about it. Demi never commented on exactly why she got this floral tattoo in particular. However, fans suspect it was to celebrate her six months of sobriety.
Great-Grandmother
This is probably one of the most meaningful tattoos on Demi Lovato. She went to Dr. Woo to get a portrait of her late great-grandmother, who she called "Mimaw," on her forearm. "This is for you Mimaw," Lovato wrote on Instagram, showing off the tattoo. "You at 26 on my arm while I'm 26, and forever. I love you more."
Me & Smiley Face
Demi got this tiny text — "me" — tattoo on her finger. "Can't love anyone unless you love yourself first," Demi wrote on her story. She later posted a photo on her Instagram with the caption: "Me first. Thank you [Winter] for my new forever reminder." Three years later, Demi tattooed a smiley face on her pinky finger. "Cause life's too short not to tattoo your pinky," she said.
Please follow and like us: