Billie Eilish outfits are known for being different and maybe… weird. Growing up, she likes to wear baggy, layered clothes so people can't judge her body.
On the recent Oscar 2020 red carpet, Billie wore an oversized Chanel pantsuit, attached to many of its accessories. She has long black nails and blue hair. Vogue magazines, Elle have put Billie on the list of fine clothes.
At the end of January, not only won the Grammy 2020 with five awards (including the four biggest prizes), Billie was also on the outstanding wear list. She wears an oversized Gucci from head to toe in blue-black color, wearing a patterned mask, two-tone hair, and green nails. Photo: Reuters.
Billie has a unique and outstanding dress. The classic hip-hop influence style blends gothic and skater fashion. It's associated with skateboarding – a street sport, booming in the 1990s.
Oversized, multi-layered outfits, often printed with manga characters, Japanese anime or Gucci, Chanel, Louis Vuitton … logo combination: green, blue, orange and red become the brand Billie's own brand every time it appears.
Bille to the Variety event – which honors her as the "Queen of the hit" of 2019. In a video by Calvin Klein, she once shared about wearing oversize outfits. "Because they can't see, people can't judge whether I'm fat or thin." Billie also considered it as a way to make herself stand out.
Samantha Burkhart – stylist series of stars including Katy Perry, Kesha, Rosalia, Christina Aguilera, and Mark Ronson – commented on the female singer on the Los Angeles Times: "She likes the uniqueness, not fit or run after the majority".
The young female singer is definitely a fan of chunky sneakers. "Women's sneakers are boring," she told host Joe La Puma of Complex series – episode "Sneaker Shopping". Billie often chooses Air Force 1s, Jordans, Louis Vuitton – Archlight, Gucci Rhyton, or Balenciaga Triple S.
The singer arrives at the American Music Awards 2019 with a stylized beekeeper hat. Also, she uses layers of clothes to protect herself from scrutiny. At the Experience Shows in 2019 (by Spotify), Billie wore clothes with the Louis Vuitton logo, a hat and a ninja mask with the same color.
Accessories are also prominent in Billie's style, often cared for by the female singer. Stacked necklaces, rings, rings, large glasses, wide-brimmed hats, stylized masks to meticulously drawn nails are the highlights of the overall outfit.
On stage, she often wears short, funny, oversized designs. CNN's Marianna Cerini commented that Billie's look is not cute, sexy; which is the characteristic of many teen Pop artists in the past and present such as Britney Spears, Miley Cyrus, Selena Gomez, Ariana Grande. As a result, the 18-year-old singer is changing the pop star's fashion default. Anna Wintour – current editor-in-chief of Vogue – commented: "What I like about Billie's style is its personal touch. The costume conveys herself ".
Last September, the singer posted a picture of herself in an XXL t-shirt and pants. "I'm fed up with comments that I should wear normal to be hotter", she said. Billie Eilish is apparently tired of people talking about her outfits.
Moreover, she shared on Harper's Bazaar: "For me, it's important to be comfortable. I don't like wearing jeans and a casual shirt – it feels strange, like it's not me.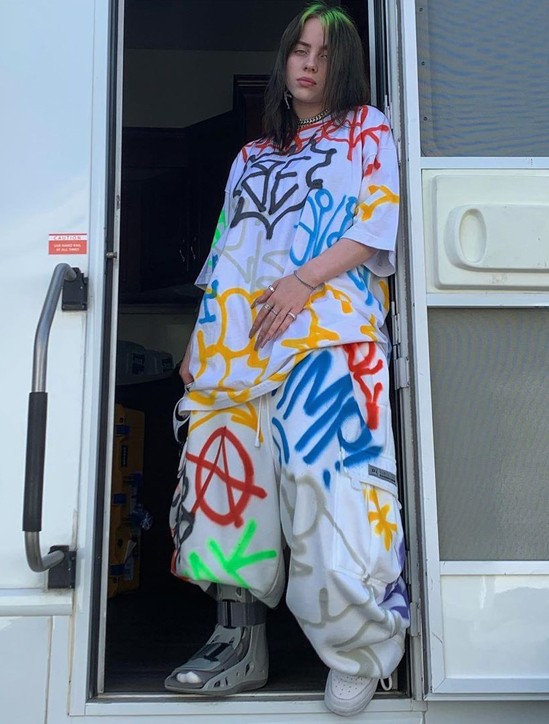 The female singer's style inspires many people. She appeared on the cover of Vogue, V Magazine, in the advertising campaign of Urban Outfitters, Bershka, Calvin Klein. Cooperating with H&M earlier this year, the female singer spread the message of organic and sustainable fashion through a series of oversized sweaters, hoodies, wool hats, and wide-brimmed hats.
On Instagram, many people try Billie Eilish outfits and say they are so comfortable. "She inspires new: impromptu fashion style and less sexual color," commented Ruth La Ferla of The New York Times.
Please follow and like us: