Selena Gomez dating history isn't a new topic. As one of the stars with an exceedingly high fan base and a private life that is always "cared" by paparazzi, Selena Gomez is always careful when disclosing relationships. Let's take a look at real-life lovers and rumors of this talented singer-actress.
Nick Jonas: official
Selena Gomez had a few months dating Nick Jonas in 2008, this also made the friendship of Miley Cyrus and Selena broken because many people thought that Nick broke up with Miley to get to know Selena. Despite having a long time together, when she was asked about her relationship with Nick, the singer always answered that it was her sweetest and youngest love.
Currently, the two still have a close friendship, at the VMAs 2015, the couple was also seen talking intimately together, but both did not intend to return to the other.
David Henrie: rumor
David Henrie starred in the Disney film that made Selena's name – Wizards of Waverly Place. In the film, David plays Selena's older brother so they both have a chance to interact with each other a lot. Even the two remained close friends after the film ended in 2012. During 2014, the two were involved in dating rumors after a long time as friends, but both The main character never spoke about this.
Currently, in an interview with Teen.com, David also shared that he is always behind Selena, and will always support and protect the female singer as he protects all the important women.
Taylor Lautner: official
Selena met Taylor Lautner in Vancouver in September when she went to film Ramona and Beezus and Taylor finished filming in Twilight: New Moon. They accidentally met in the hotel and quickly fell in love, Selena shared with Seventeen: "We went out for lunch and dinner together, even though there were paparazzi following but we didn't. It was a great time for me."
Despite only dating for a few months, the impression of them is very good.
Currently no longer contact but Selena still talks about Taylor with good words, even when he dated her close friend Taylor Swift, Selena also blessed them both.
Justin Bieber: official
Justin is Selena's most long-lasting and most press-loving relationship. Both have 5 years of ups and downs dating with breakup times. This is also considered to be the love affair that causes the singer the most miserable and hopelessness due to Justin's blooming habits.
"People say I'm stupid and blind in this love but I understand what he needs and wants, at least he has been worthy of my feelings. "
Zedd: official
Selena and Zedd had a brief date in early 2015. Both were extremely happy and collaborated on many music projects. Both of their friends are also very supportive and collaborative for the talented couple. However, Zedd was jealous of Justin Bieber. Because he felt that his girlfriend showed a lot of feelings for her ex-boyfriend. While Selena said that Zedd focused solely on music.Then, the two eventually broke up after a brief dating period.
Selena still spends good words for Zedd right now. In an interview at New England on The Edge Afternoons, she said: "I really admire Zedd. There were good things between us ".
Niall Horan: rumor
Niall and the members of the 1D band introduced Selena to receive the Best Pop Video Award at the MTV Video Music Awards 2013.

However, currently, Selena has a good relationship with all the members. She even comfortably kissed all 4 boys in Jenna Dewan's 35th birthday party. This made the female singer Niall's dating secrets become no less taboo.
Charlie Puth: rumor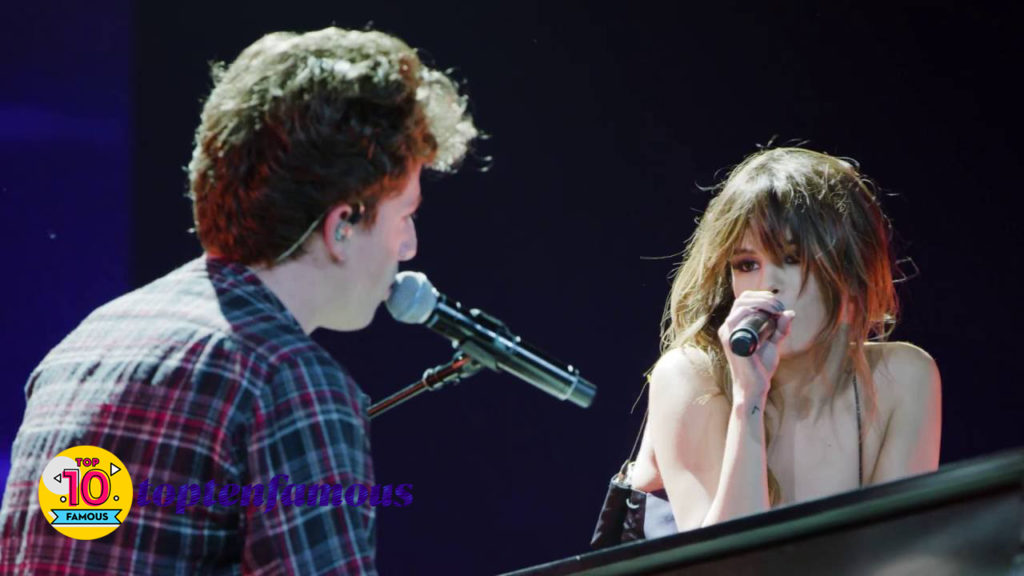 Charlie and Selena first met at MTV VMAs 2015. The singer said Selena was extremely friendly. "I just need to step forward and start talking, she talks very comfortably."
It was this that helped both of them contribute their voice in the hit song "We don't talk anymore".
Charlie completed the summer tour with Selena. And the two have made very affectionate gestures when acting together on stage. A lot of people expect both to be together; however, the couple just wants to keep being friends.

The Weekend: unspecified
Selena's fans almost "stopped breathing" when seeing her publicly kissing The Weekend. Both looked extremely charming and did not seem to care.

Selena is a close friend of Gigi Hadid. While The Weekend is a former lover of Gigi's younger sister Bella Hadid, Selena doesn't seem to mind. Meanwhile, Bella stopped following Selena on Instagram.
Since then Selena Gomez hasn't been back to dating anyone. We hope she will find someone new and have her own happy ending, like Justin did.
Please follow and like us: