Dwayne Douglas Johnson (born in 1972″ also referred to as The Rock, is an American actor, producer, businessman, and former professional wrestler and football player. Before turning into a professional actor, he famously used to be a strong wrestler for WWF (World Wrestling Federation). In 2001, Johnson got the first role in the movie "The Mummy Returns", and starred his first lead role in the spin-off "The Scorpion King" (2002). Then he is widely recognized around the world thank to his action character in the typical series of Fast and Furious. And now let's see what are his upcoming movie projects?
1.Jungle Cruise
Release date: 24 July 2020
This film will be coming soon this next month marking the return of "The Rock" on the big screen. The plot will focus on the adventurous journey of a small riverboat which takes a group of travelers crossing a mysterious jungle full of dangerous animals and reptiles, but having magic inner itself in order find out The Tree of Life which is told to possess healing powers. Dwayne Johnson will take the lead role as a riverboat captain Frank in the company with his partners to explore the magic and mysterious land for the accomplishment of the mission. This film is produced by Walt Disney Pictures and stars Dwayne Johnson, Emily Blunt, Edgar Ramirez, Jack Whitehall, Jesse Plemons, and Paul Giamatti. Hopefully, Jungle Cruise will reach the audience's satisfaction with the acting skills of the cast list.
2.San Andreas 2
Release date: no date announced
Although Director Brad Peyton still keeps his card close to his chest about whether or not the next part Of San Andreas happens, he even gave some hope to fan's movie in his latest interview that he likes to work with The Rock again no matter what the case. San Andreas made $473.9 million at the worldwide box office, making it a bankable hit and possibly open a new chance for San Andreas 2 to hit the screen soon. If it follows the first spin-off part "San Andreas", it is said that San Andreas 2 maybe its sequel in which a search-and-rescue helicopter pilot fights against the Ring of Fire to save his family. Some fantastic movie projects are waiting for The Rock such as Red Notice, Fast and Furious 9,…. His fans still are excited to welcome San Andreas 2 like a special present.
3.Doc Savage
Release date: No date announced
Perhaps in near future, Dwayne Johnson will hit the big screen with a news story about the first near-perfect superhero in every way in the world named "Doc Savage" who debuted in pulp magazines way back in 1933 and was portrayed on the silver screen by Ron Ely in 1975's Doc Savage: The Man of Bronze. It is similar to San Andreas 2 that the date release of Doc Savage has been under the wrap. Due to some right issues, the project has been stopped from getting started as quickly as Black and Dwayne Johnson had hope. However, The Rock published a confirmation of keeping going to this movie production, which makes the audiences can't help expecting.
4.Black Adam
Release date: 22 December 2021
From the very first plan For Black Adam, Warner Bros would let Black Adam appear in the Shazam movie, but now this character will own for him a standalone film, which will be in production this year and reach the big screen in the following year. The movie will begin filming sometime in 2020. Black Adam based on the DC comics property is scheduled for release at the end of next year.
5.The King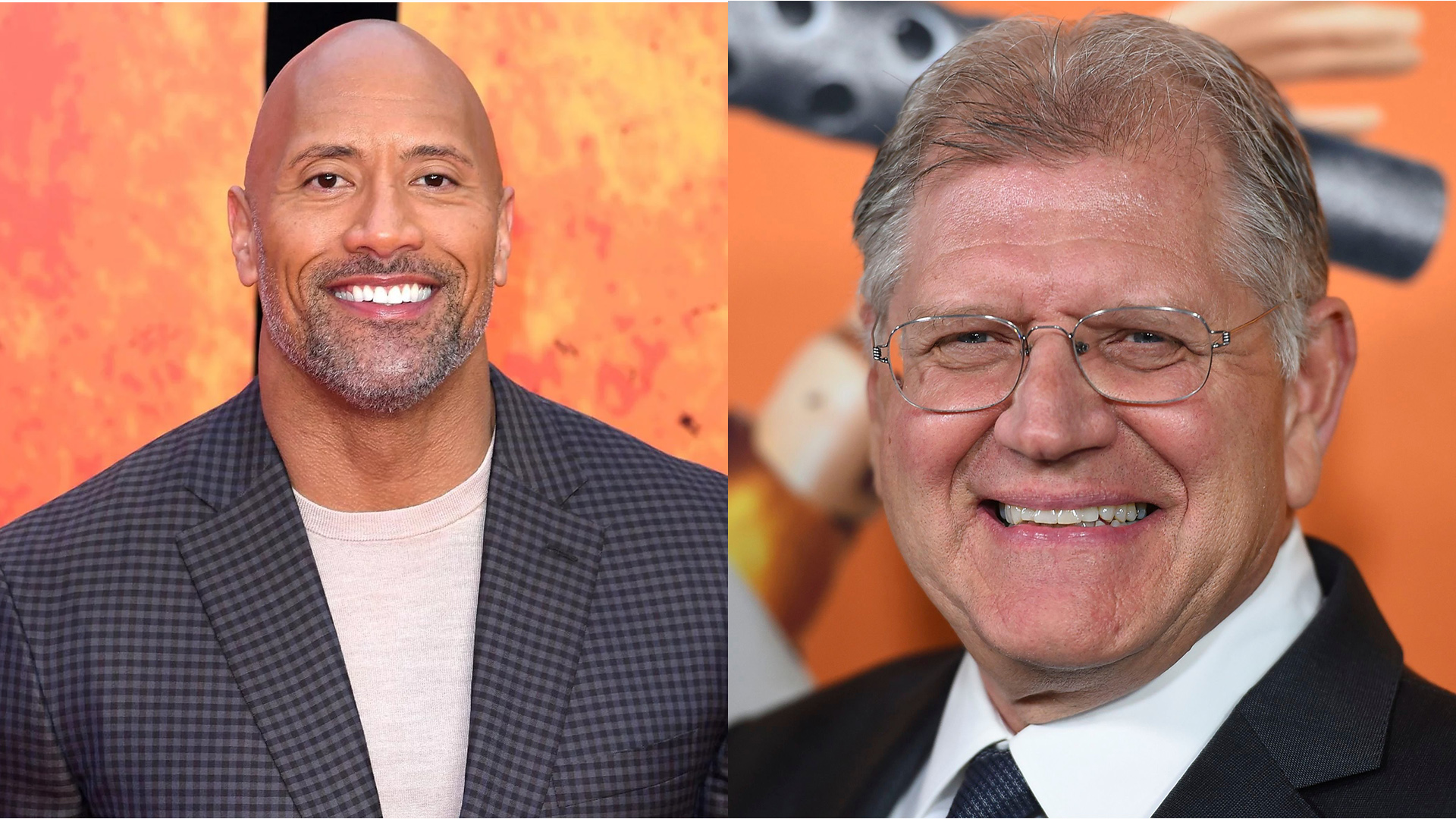 Dwayne Johnson and director Robert Zemeckis
Release date: No date announced
Dwayne Johnson is set to portray the ruler of the Kingdom of Hawaii in the new film from Robert Zemeckis. In this film, he has to cautiously carry out step by step so that warring islands could be unified. The Rock also used to reveal that this story truly impacts on him during his teenage years while he was in Hawaii. The King has been described as a 'sweeping historical epic' and will start shooting in 2020.
6.Big Trouble in Little China
Release date: No date announced
The original film was released in 1986 and stars John Carpenter who considered as the main factor for its spin-off reputation. But now, this film will be refurbished with the participation of Dwayne Johnson as the main character, even though as a producer. However, this film has not announced its official release date yet, we still have to wait and see if The Rock can do justice to this movie.
7.Red Notice
Release date: 13 November 2020
Dwayne John can be considered to be an excellent action actor due to the kind of physique he maintains, which makes him suitable for the roles of action heroes. In Red Notice, The Rock will play the role as a part of an Interpol agent who is responsible for looking for a world-class thief. In this movie, he will star along with Gal Gadot and Ryan Reynolds. Anyway, there will be some good things waiting for the audience this year.
Please follow and like us: