Before Guardians of the Galaxy (2014) was released, Chris Pratt was only known as an actor with oversized appearance specializing in supporting roles. Today, he is a well-known actor that is widely sought by the global media. Fans may love him quickly, but few of them could know that their idol was once homeless. People also didn't believe in his acting when he casted for the famous superhero Peter Quill (Star-Lord). Let's look at improving process of Chris Pratt then and now!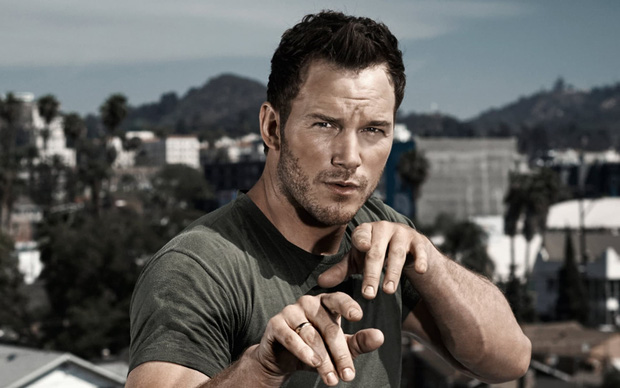 The homeless guy found his passion for acting
Chris Pratt was born on June 21, 1979 in Virginia, Minnesota, United States in a family with no artistic tradition. His mother was an employee of a supermarket, while his father used to work as a mining worker but then he moved to repairing houses. Chris Pratt dropped out of college after a semester and found hard living jobs after that. This guy used to work as a stripper and ended up like a homeless person sleeping in a truck and a beach hut.
While working as a waiter at the famous Bubba Gump Shrimp restaurant, Chris Pratt accidentally met Rae Dawn Chong. The filmmaker kept an eye on Chris Pratt and asked him to participate in a short film directed by her. The film did not help Chris Pratt to become a star but it was an important milestone for him. Chris Pratt found the passion of his life, which he always looked for after dropping out of school.
Chris Pratt in his first movie "Cursed Part 3" (2000)
Reputation and love kept coming then
As a newcomer to the film industry, Chris Pratt mainly participated in TV series, including many famous series such as Everwood (2002-2006), The O.C. (2006-2007) and Parks and Recreation (2009-2015). Few people know that the lovely Andy Dwyer in "Parks and Recreation" was just a supporting role in the first season. But Chris Pratt's charming comedic way had taken the audience's hearts, which caused producers to change their decision to push him into the lead role since season two.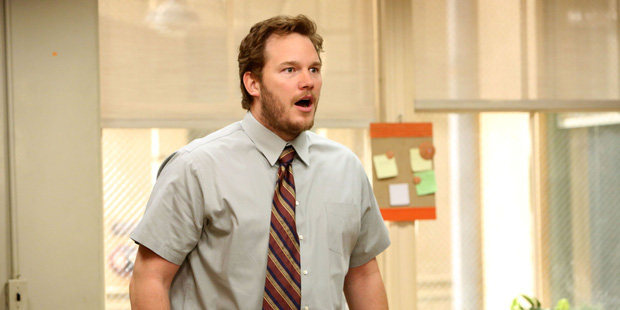 With what was shown on the small screen, Chris Pratt showed that he was "a master to create laughter".  Writers of "Parks and Recreation" recounted that they simply wrote a simple note like "Andy doing tricks on this paragraph" in the script because they believed Chris could improvise quickly. However, his ability to make other people laugh and his oversized appearance also made the audience nailed him into sloppy roles with a thoughtless lifestyle, which struggled him hard to get out.
2009 was a turning point for Chris Pratt when he was not only famous for Parks and Recreation but also successful in conquering beauties. Chris Pratt and Anna Faris first met on the studio of Take Me Home Tonight in 2007. The two transformed into a loving couple, but she took the lead role while he was a supporting man, so they were unable to come together on film. But in real life, they fell in love and made a lifetime commitment in 2009.
Chris Pratt was just a potential actor at the time of their marriage, while Anna Faris was the queen of Hollywood romantic comedies. But throughout the years, she had always been a solid rear for the man she loved. Chris once shared sincerely: "I love you and I thank you for always believing and caring for me. I will protect you with everything Ihave. My life is meaningless without you ".
However, it was a shock throughout Hollywood when Chris Pratt and Anna Faris announced their divorce in October 2018 after 8 years of their marriage. About a year later, in June 2019, Chris Pratt and Katherine Schwarzenegger were married in Montecito (California, USA). Related article: Love Journey of Chris Pratt and the Daughter of Arnold Schwarzenegger
A typical example of "successful puberty"
Chris Pratt shared that he was rejected from casting for the role of Star-Lord in Guardians of the Galaxy (2014): "I was scared and thought I wasn't fit to be a superhero because I looked so fat." Director James Gunn also agreed with this when he had the opportunity to meet the actor: "When the director of casting process brought that guy to meet me for the first time, I remember my saying: "Is that fat guy from Parks and Recreation, are you kidding me?"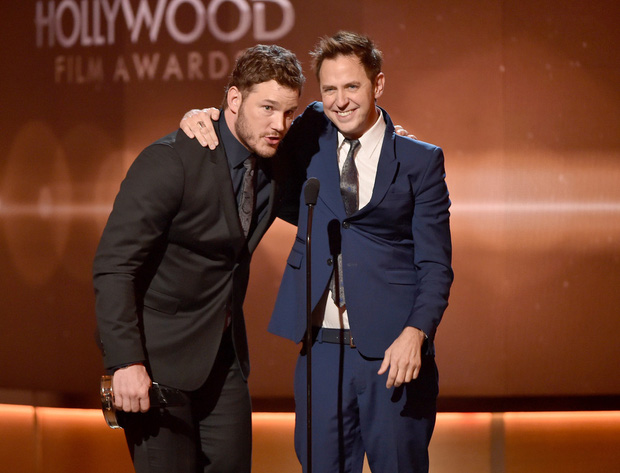 Chris Pratt and James Gunn
James Gunn gave the actor an opportunity for castin and it was easily to persuaded by the guy: "After only 20 seconds of seeing his rehearsal, I immediately knew he was the person I needed." In return for the trust of the director, Chris Pratt asked him 6 months to "squeeze his body". The actor was controlled by a team of bodybuilding and nutrition experts to ensure he did the gym for 4 hours, pushed about 500 pushes and went on a severe diet every day for half a year.
As a result, the male actor gave himself beautiful muscles. Movie fans, especially women, went crazy for him. But to become a true A-list star, people need more than just a beautiful body. There are countless beautiful actors and actresses who cannot shine even for a second in Hollywood.
Han Solo new era
In Guardians of the Galaxy, Chris transformed into superhero Peter Quill, an orphan Earth boy who was raised by aliens. He grew up to become a notorious and unrealistic superhero in the galaxy. Peter Quill later stole the secret orb and took on the task of protecting the planets. Going to Guardians of the Galaxy Vol. 2, Chris returned to his previous role and continued the journey protecting the galaxy.
Chris showed his ability to act in a humorous, powerful, but subtle manner when he transformed into an adorable space hero with a style like a cowboy. The superhero under Chris Pratt's acting made many fans think of Han Solo, who was also a bad thief becoming a hero. The image of Han Solo played by actor Harrsion Ford had been loved by female audiences for years. Now they have another new bad guy in their hearts.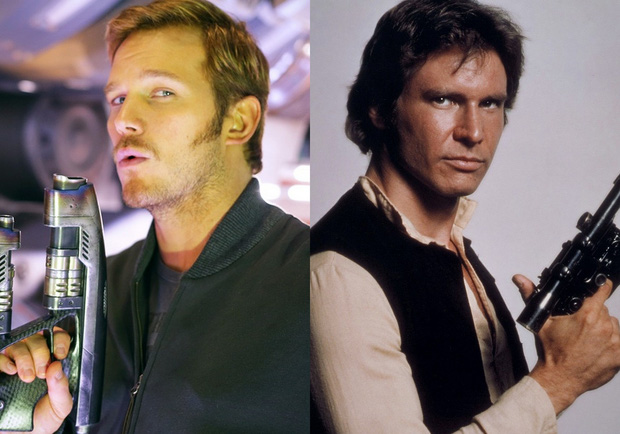 But it does not mean that Chris Pratt only impresses fans with the role of Peter Quill. The resilient dinosaur trainer in Jurassic World, the charismatic cowboy of The Magnificent Seven to the loving passenger in the Passengers always exuded his hot charm and brought deep emotions to audiences.
Please follow and like us: