On June 8 2019, Chris Pratt and Katherine Schwarzenegger were married in Montecito (California, USA). This is Chris's second marriage, after the marriage with Anna Faris (2009-2018).
Chris Pratt born in 1979 is famous for his roles in the MCU and the "Jurassic World" series. Katherine Schwarzenegger born in 1989 is a female author of a powerful family. Her father is Arnold Schwarzenegger – veteran actor and former governor of California. Her mother who is journalist Maria Shiver from Kennedy calls the late President John F. Kennedy uncle. 
According to People, he and Katherine have been dating since June 2018 through the introduction of her mother. At that time, the actor was separating with Anna Faris. In July 2018, they were caught kissing each other on a street in Los Angeles (USA).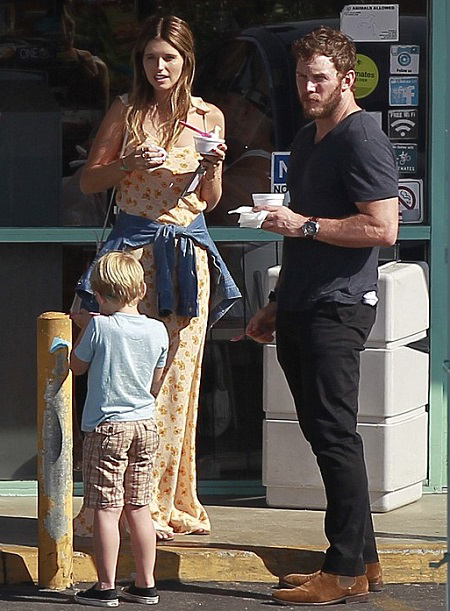 Before, this couple went to church with Jack, the son of Chris. Since their relationship progressed, Katherine met Jack many times also became close to the boy.
In August 2018, Chris attended a meal with the Schwarzenegger family. Patrick, Katherine's brother, posted this couple's photos on his personal page. Many sources said that Chris and Katherine often went to church together. Their dates usually started with church activities.
In September, the duo was assumed to love each other passionately. "They are happy, very compatible with each other and are serious in emotional relationships. Families are very important to them, as well as spiritual matters. She is very sweet and behaves with Chris' son as a mother," a relative of them shared.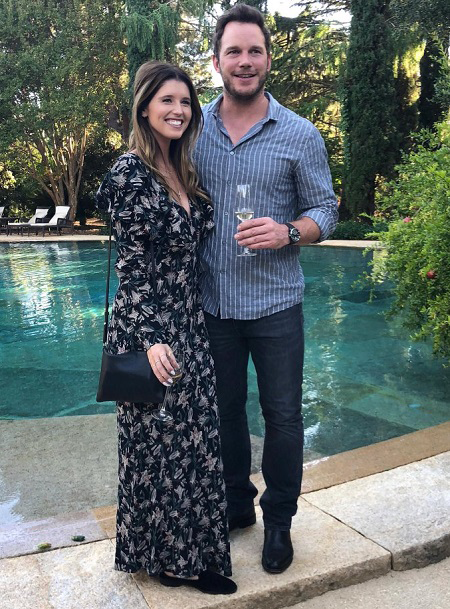 In November 2018, Chris Pratt and Anna Faris completed the divorce procedure. He announced that he loved Katherine on his personal page on her birthday (December 13). "Happy birthday leader! Your smile lights up the room. I cherish the moment we are together. It is so happy that God brought you into my life. Thank you for the laughter, the kiss, the conversation, the trips, the love and the attention". Previously, the duo kept quiet about their relationship despite being repeatedly spotted going together.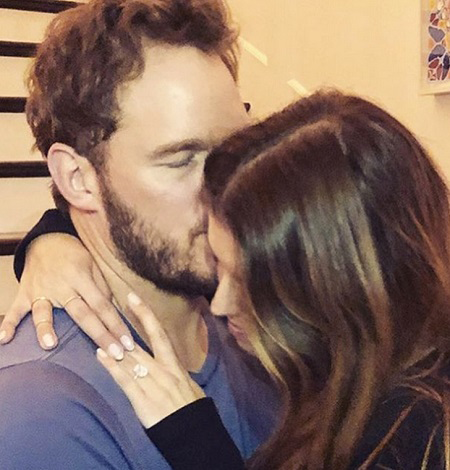 On January 14, the actor announced they were engaged on Instagram. "Dear Katherine, so happy when you agreed. I'm glad to marry you. It's so proud to live with you in faith". Chris's ex-wife, Anna Faris, still maintained a good relationship with him after the divorce. "Chris Pratt told me about the engagement to Katherine the next day. I was happy when knowing they would be a couple. I liked Katherine very much", the female star wrote on her personal page. 
Also in January, Chris and Kathrine moved to their new home in Los Angeles (USA). Under the agreement upon divorce, he and his ex-wife would live no more than 8km apart until their son would be in his sixth grade.
At the promotion of the animation "Lego Movie 2" which was voiced by Chris, he shared his future plans. "I want to have lots of kids, spend less time working and enjoy my life more. I don't live to work, I work to live. I think I will spend more time on the farm catching fish and watching the sunset".
Katherine also shared this hobby with Chris. After the engagement, the couple often posted photos which they took care sheep and other animals together on a farm in Washington state. "I am very happy in every aspect of my life. I'm feeling blessed and fortunate", she wrote.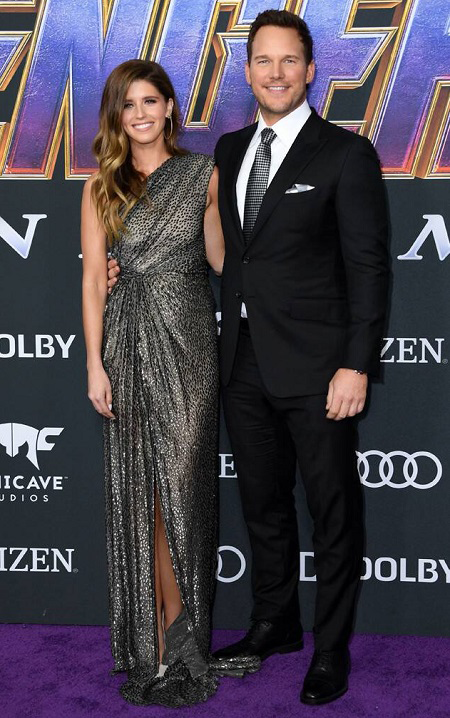 The duo first paired up on the red carpet at the "Avengers: Endgame" premiere in Los Angeles (USA) in April. Chris wore a vest with gray accessories, and Katherine wore a metallic long skirt by designer Monique Lhuillier. "Avengers: Endgame" is also the highest-grossing film in Chris Pratt's career (over 2.7 billion USD).
Chris and Katherine got married in a private wedding with few family members and friends. "The party space was very beautiful, there are lots of flowers and trees, which was a way for a romantic wedding arrangement. The whole family took photos together, including Arnold Schwarzenegger and Maria Shriver (bride's parents). Katherine laughed all the time and Chris was very excited", People said. Chris Pratt's six-year-old son also came with his father. Other guests were Rob Lowe – Chris' co-star in "Parks and Recreation" and director James Gunn of "Guardians of the Galaxy" director James Gunn.
Before the wedding, the couple did not disclose information to the media. On their profile, they did not share the wedding. Chris's most recent post on Instagram was from May 30, which introduce the animation "Onward" voiced by him.
Please follow and like us: