Miley Cyrus and Liam Hemsworth first met at The Last Song studio in 2009. In recording period, Miley Cyrus was a 17-year-old well-known star of Disney, while Liam Hemsworth was only an unknown 19-year-old Australian actor at Hollywood. Miley Cyrus revealed that she used to give little kid Bobby Coleman (brother of Miley's character in this film) 10 USD to ask if Liam Hemsworth liked her.
In March 2010, they took part in the premire of The Last Song. Miley always hugged her colleage and looked at him affectionately. Then Cyrus and Hemsworth admitted their real love and began their relationship officially. Miley Cyrus shared that she loved him at first sight.
This love did not last long. 5 months later (August 2010). The Last Song couple broke up at first time. During this period, Miley Cyrus was caught having intimate behaviors with other actors.
However, one month later, paparazzi caught Miley and Liam giving passionate kiss to each other on a car. In November 2010, this couple was suppose to have their second breakup.
In April 2011, Miley Cyrus and Liam Hemsworth usually appeared together but did not claim their reunion. Liam even was with Miley when she was on her Gypsy Heart tour.
In December 2011, this couple appeared together at a big event. Not long afterward, Cyrus and Hemsworth were together at People Choice's Awards ceremony held in early 2012 when they claimed their reunion. 
In June 2012, this couple officially engaged after 3 years together. Hemsworth ordered Neil Lane to made a 3.5-carat diamond ring by his idea for Miley. Their engagement existed until being canceled in September 2013. The reason was guessed that Hemsworth was not loyal to his fiance. 
The event in August 2013 (left photo) was the last one they were together before canceling their engagement. After the breakup, Miley came back to showbiz with a rebellious image like short hair and offense fashion. The peak of her rebel was on MTV Video Music Awards 2013 Stage where she was nearly nude and had an arousal performance with Robin Thicke, her colleague. MV Wrecking Ball was released at this period too. Miley used to admit that she regretted being nude and cry on this MV.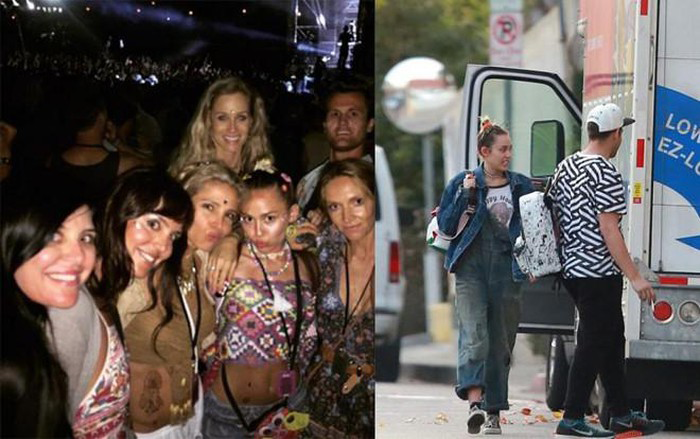 At 2014 Christmas, Miley Cyrus surprisingly appeared in Australia and enjoyed her holiday with Hemsworth family, which caused the rumor that they came back together. No longer after that, Miley moved to live in Liam Hemsworth's apartment in Malibu (California, US).  
In the end of 2015, they both realized that they could not live without each other so they came back together. In October 2016, Miley Cyrus confirmed that they had their second engagement. She revealed: "I need to change myself a lot. And changing the one that used to be unchangeable is too difficult. I suddenly missed him then we contacted again."
After the reunion, Miley Cyrus became more gentle and modest. She often showed her regret of being rebellious befor. In March 2018, this couple hand-in-hand appered on red carpet of Elton John's annually party. From Miley's expression, it was belived that this couple was actually happy and appreciated their love.
On 23/12/2018, this couple held their secret wedding in their own apartment in Franklin (Tennessee, US). 4 days after, Miley Cyrus shared their intimate photo which she was kissing Liam Hemsworth passionately with a caption "10 years later". Liam also shared this photo with a sweet caption: "My love". They officially became husband and wife after a decade in love. After their marriage, Liam often said sweetly when mentioned about Miley. 
Please follow and like us: