Actress Jennifer Lawrence then and now has become one of the most influential stars in Hollywood since her young age.
Jennifer Lawrence was born on August 15, 1990, and raised in Louisville, Kentucky, USA. She is the youngest child in a family with 3 siblings. Jennifer used to participate in cheerleading, play softball & hockey, be a model before becoming an actress at the age of 14. She was really passionate about acting.
After starting her career with a few memorable roles in small films, Jennifer Lawrence had her first lead role in the television series The Bill Engvall Show. Although this sitcom was stopped after season 3, Jennifer Lawrence promptly proved her impressive acting. She won a Best Young Actor TV Series nomination at the Young Artist Awards.
In 2008, Jennifer Lawrence had her first movie: Garden Party followed by The Burning Plain with stars Charlize Theron and Kim Basinger. Despite being a supporting role, this movie earned Jennifer Lawrence the Marcello Mastroianni Award for the Best Young Actress at the Venice Film Festival.
Jennifer Lawrence continued starring in The Poker House together with "Hit girl" Chloë Grace Moretz. Jennifer's character was Agnes, a young girl who had to work hard to raise two younger sisters in the house that her mother used as a prostitute place. This role earned her the Best Actress award at the Los Angeles Film Festival.
In 2010, Jennifer Lawrence took the main role in Winter's Bone. The movie made a breakthrough in this talented young girl. Jennifer plays Ree, a 17-year-old girl who had to carry the whole family after her father suddenly disappeared. He left a mortgage, a mentally ill mother, and 2 younger children on this young girl. The film received constant praise from critics and won the Best Film Award at the Sundance Film Festival. Jennifer also received an Oscar nomination for Best Leading Actress, becoming the third-youngest actress in history to receive this nomination. In addition, she also received more than 30 nominations at other large and small awards.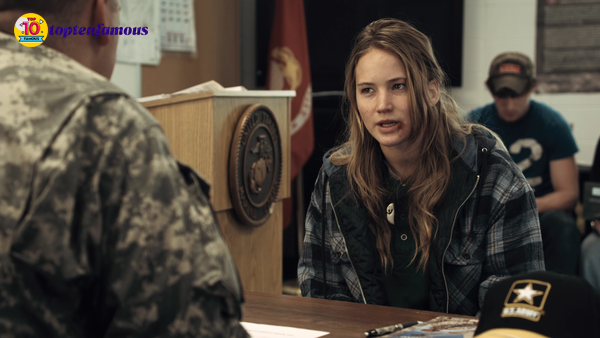 In 2011, Jennifer Lawrence played the role of Mystique in X-Men: First Class. This was a blockbuster superhero movie that summer. It got a lot of compliments from audiences and critics. Many fans of the X-Men comics commented that Jennifer brought a very real Mystique with jealousy, envy, and even torment.
Also in 2011, Jennifer Lawrence agreed to take on the female lead role in The Hunger Games, which was a breakthrough milestone in her career. At first, the original role was compared to Bella (Kristen Stewart) of the Twilight series, which made Jennifer very hesitant when making the decision to accept the role. Many people used to think that this would have bad effects on her career. However, in reality, Jennifer had proved the opposite result.
In March 2012, The Hunger Games was released and got an incredible success with the third-highest opening revenue of all time. Jennifer Lawrence's Katniss Everdeen was on par with other classic heroines in film history such as Ripley (Sigourney Weaver in Alien), Sarah Connor (Linda Hamilton in Terminator).
The success of Jennifer Lawrence in 2012 did not stop there. She also appeared in Silver Linings Playbook. It continued being a work getting many compliments and received the Oscar Award for the Best Actress.
2013 continued being a successful year for Jennifer Lawrence when she had 2 films that brought her impressive achievements. One movie was The Hunger Games: Catching Fire, a blockbuster of the year with nearly $ 856 million (over 18 trillion) worldwide box office. The second was American Hustle, the film leading the 86th Oscar Award nominations with 10 nominations. Jennifer Lawrence herself was also nominated for Best Supporting Actress.
Times Magazine used to vote Jennifer Lawrence to be one of the 100 most influential people in the world, while Rolling Stone gave her the title "America's most talented young actress".
In fact, she got all her fame and success mentioned above at the age of 24!
Related: Amber Heard's Appearance Then and Now: from 2005 to 2019
Please follow and like us: