According to Phi ratio, Amber Heart got one of the most perfect faces in the world with a high score at 91.85%. Let's look at her transformation then and now from 2005 to 2019.
In 2005
In 2005, Amber was still a teenager at the age of 19. She had blonde hair, naive eyes and perfect skin at that time. Her upper lip was much thinner than the lower one, which is considered as a beauty standard.
In 2006
Amber Heard at the 2006 Los Angeles Art Show Opening Night Gala
This photo was taken when Amber Heart was at the 2006 Los Angeles Art Show Opening Night Gala. Her smile was always gentle. She had thin eyebrows, which were trendy at that time.
In 2007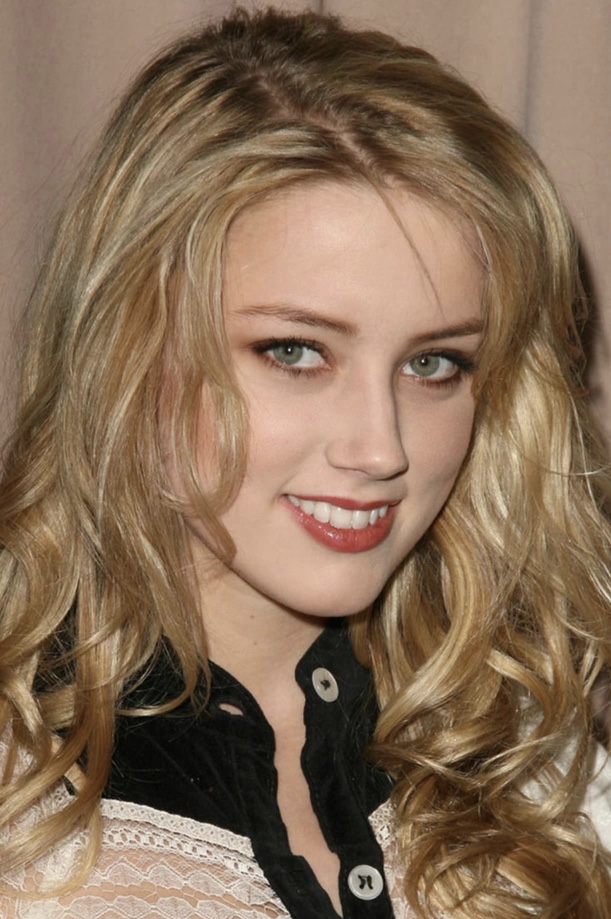 Amber Heard at the 2007 Awards Season Diamond Show Fashion Preview
Amber Heard was at the premiere of "The Beautiful Ordinary". She wore smoky-eye makeup with a hair cut inspired from the 1970s.
In 2008
Amber Heard at the 2008 Hot Hollywood Awards
In 2008, she had tried many hair color. At Hot Hollywood Awards that year, she had blonde retro curl hairstyle.
Amber Heard at a D&G boutique opening in 2008
She used to had black hair in 2008, which was a perfect choice to make Amber's green eyes outstanding.
In 2009
Amber Heard at the 2009 Sundance premiere of "The Informers"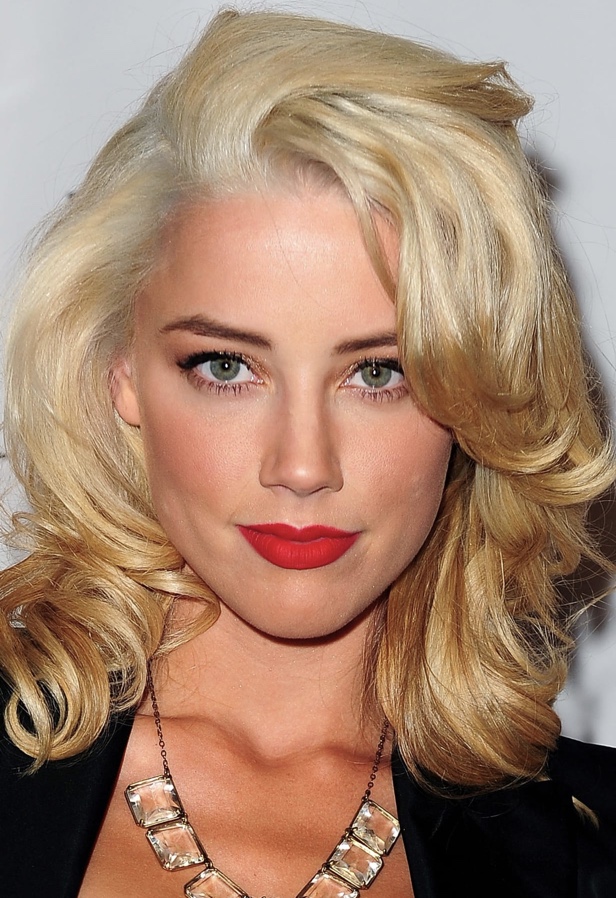 Amber Heard at Virgin America's 2009 Los Angeles to Fort Lauderdale launch party
At the end of that year, she dyed her hair lighter again. Uneven skin tone combined with retro wave hairstyle and bright red lipstick made her look older than the age of 23.
In 2010
Amber Heard at Diesel's Black Gold cocktail reception in 2010
To be suitable for her first main role in movie Drive Angry and The Rum Diary, she had warm blonde hair, which was a good match with her skin tone.
In 2011
Amber Heard at the Hollywood Film Awards in 2011
In 2012
Amber Heard at the 24 Hour Plays on Broadway Gala in 2012
At the age of 26, Amber changed her hair color into brown. She wore a trendy color lipstick of 2012, which was burning orange.
In 2013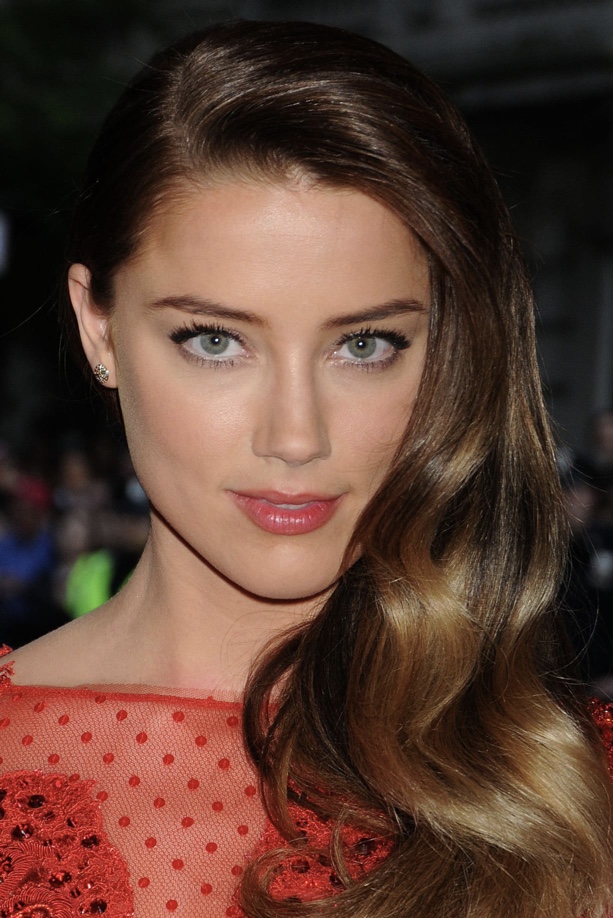 Amber Heard at the Met Gala in 2013
In 2014
Amber Heard at the Golden Globe Awards in 2014
In 2015
Amber Heard at the 2015 premiere of "The Adderall Diarie"
It was rumored that she had hyaluronic acid lip injection because her upper lip was thicker compared with it was in 2007.
In 2016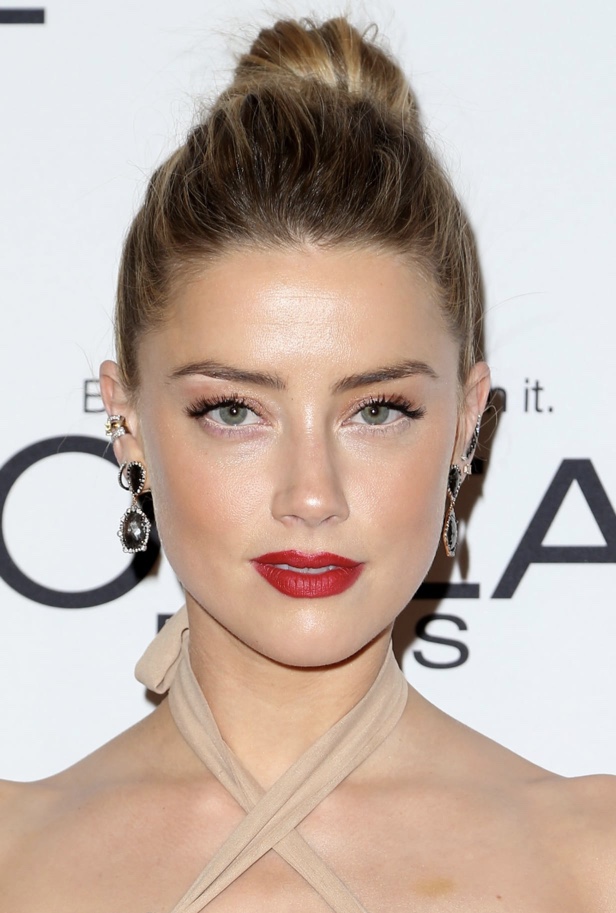 Amber Heard at the 2016 Glamour Women of the Year Awards
Amber became prettier at the age of 30. She looked wonderful with glowy make up and bright red lipstick.
In 2017
Amber Heard at the 2017 Art of Elysium Heaven Gala
In 2018
Amber Heard at the Hollywood Foreign Press Association's 2018 Grants Banquet
Sleek ponytail and red lipstick made she more mature. Due to the age, stress and weight loss, her face shape became more angular.
In 2019
Amber Heard at the Planned Parenthood of New York City 2019 Spring Gala
The older Amber got, the more beautiful she was. She was so attractive in red lipstick and this minimal makeup.
Amber Heart's Appearance Then and Now
Please follow and like us: