Due to the outbreak of coronavirus pandemic, numerous movies postponed without the exact affirmation. One of them is Escape from Pretoria- the splendid thriller in this year 2020. This marvelous movie makes the return of talented actor Daniel Radcliffe at the beginning of 2020. It is also a perfect combination between Daniel Radcliffe and his co-star Daniel Webber.
Escape from Pretoria doesn't quite do justice to the fact-based story it's dramatizing, but that lack of depth offsets suitably gripping jailbreak action.
Escape from Pretoria received many positive comments from critics
It has received positive signals from movie critics. Escape from Pretoria received a 71% positive comment by TOMATOMETER critics for the first-week release. However, it hasn't been judged by audience scores due to the uncertain show time. Although based on the old concept, Escape from Pretoria is one of the brilliant thriller movie opening for many one's floods this year marks the cooperation of two talented actors, Daniel Radcliffe, and Daniel Webber.
Daniel Radcliffe and Daniel Webber 
Escape from Pretoria- one of the splendid thrillers in 2020 of Daniel Radcliffe
Based on the book Inside Out: Escape from Pretoria Prison, director Francis Annan created a marvelous race-against-time thriller. Escape from Pretoria told a solid story. This is the extraordinary escaping case of three political prisoners, including Jenkin (Daniel Radcliffe), Lee (Daniel Webber), and Fontaine (Mark Leonard Winter) from Pretoria Prison in 1979.
After being arrested as well as being sentenced to 12 years in prison for "producing and distributing offensive political materials," Jenkin and his partner Lee were escorted to Pretoria. 'No ink, radio, newspapers or any political idea', the prison was built solidly to "break" the demand spirit of the tenacious political prisoners.
Unyieldingly, Jenkin tried to create a duplicated key to escape. Jenkin persuaded Lee and Fontaine – a French prisoner currently serving a sentence here to join, making this South African prison under profound chaos. This brainchild of director Francis Annan sent us a unique story of transporting and storing materials, honing the duplicated key by the unexpected material- wood. Furthermore, Escape from Pretoria inspired a huge passion for not only technology addicts but also moviegoers. It is definitely an ideal thriller in 2020. 
Daniel Radcliffe and Daniel Webber in Escape from Pretoria
Daniel Radcliffe and Daniel Webber- t

he perfect cooperation
No more was a wizard boy who surrounded by two kind friends Emma Waston and Rupert Grint, Escape from Pretoria marked the return of Daniel Radcliffe after the Guns Akimbo project. Daniel starred as Tim Jenkin- a political criminal trying to escape from the prison. Despite dozens of threats, mental torture in the underworld, Tim remained his goal of gaining freedom and liberty. Daniel might be an actor who has done more offbeat comedy than this drama category. However, his time doing theatre has strengthened his acting.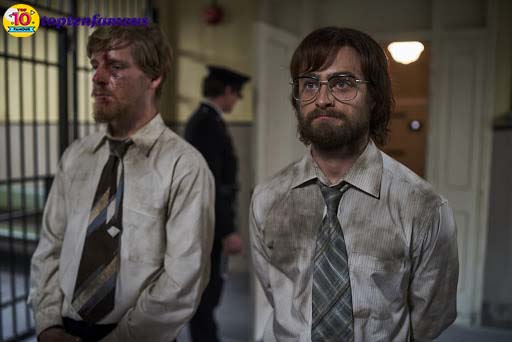 Daniel Radcliffe cooperates Daniel Webber
Accompanying Radcliffe throughout the project is Daniel Webber. He impressed audiences by many quality roles. Those are the terrorist Lewis Walcott in The Punisher Season 1 (2017) and the singer Vince Neil in The Dirt (2019). In this movie, Lee embodied Jenkin's excellent right hand, always supporting his friend Jenkin in every executing actions. So, Webber's character took the pivotal role to complete the extraordinary escape plan.
As we mentioned before, with the fantastic co-starred performances between two hot names, we believed that Escape from Pretoria would blow the excited wind to not only thriller movie addicts but also drama movie lovers.
Please follow and like us: