Beauty Margot Robbie and her husband Tom Ackerley achieve a villa cost more than 2.7 million USD at Hancock Park, the center of Los Angeles.
Margot Robbie is a famous Australian actress via many movies such as The Wolf of Wall Street (2013) and Suicide Squad (2016).
This luxurious villa was bought by Robbie and her husband, who is film director Tom Ackerley in December 2017.
This villa has a tradional style with white color and the area of 360 m2 including 5 bedrooms and 5 bathrooms.  
It is easy to regconzie Mediterranean architecture in this villa which is mixed with French style. The floor was made from oak imported from the Europe. 
The elegant living room is large but cozy, which is combined between inner space and garden space outside perfectly. 
Large kitchen with bistro style is emphasized by marble material.
The dining room is outstanding when comparing with other spaces with navy blue wall. The chandelier and other furniture are arrange subtly, which brings a luxurious but cozy atmosphere.
The main bedroom is large and consists a space for guests and a beautiful balcony view. 
Bedrooms for guests are fully equipped and full of natural light thanks to big windows.
Main bathroom with light gray and marble furniture increases the level of luxury. 
In terms of an actress like Margot Robbie, dressing area with big wardrobes is an indispensable feature in this villa.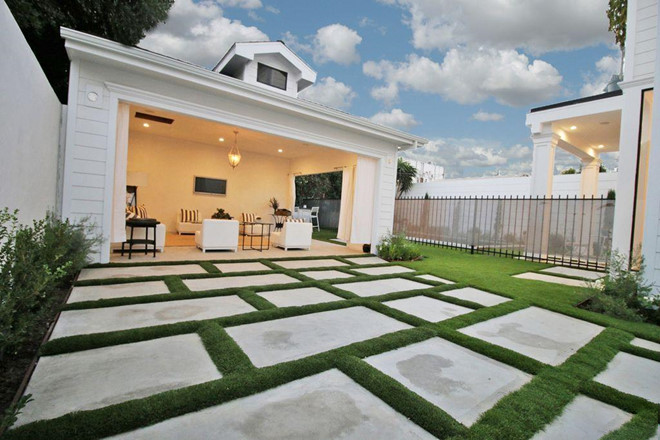 Other applications also include a wine cellar and a space for relaxing with friends. 
Swimming pool and outdoor hot tub are ideal things for a small party. 
Please follow and like us: