1. Mariah Carey
The most valuable and delicate wedding ring at present is belong to diva Mariah Carey. This well-known singer was given an enormous diamond ring 35 carat cost 10 million USD by billionaire James Packer. The ring was designed by Wilfredo Rosado, an intimate friend of Carey. It was attached a big emerald in the middle and surrounded by glitter diamonds around. Before, Mariah used to cause quite a stir when received a17-carat ring cost 2.5 million dollars from her ex Nick Cannon. 
2. Elizabeth Taylor
Elizabeth Taylor, a legend of Hollywood movie, had kept the biggest and most valuable wedding ring of all time for many decades. The ring was 33 carats, which cost 8.8 million USD and given by her 5th as well as 6th husband Richard Burton tặng bà (Taylor tied the knot with Burton two times).
3. Kim Kardashian
In October 2013, rapper Kanye West popped the question to Kim Kardashian with a 15-carat diamond ring which cost 8 million USD and designed by famous designer Lorraine Schwartz.
4. Beyonce
To propose Beyonce, Jay Z also asked designer Lorraine Schwartz to make a 18-carat diamond ring cost 5 million USD. 
5. Grace Kelly
Rainier III Prince of Monaco took the heart of Hollywood's fashion symbol Grace Kelly when gave her a 4.6-million-dollar diamond ring of the brand Cartier. 
6. Jacqueline Kennedy
After President John F. Kennedy was murdered, former First Lady of the United States of America Jacqueline Kennedy remarried with Greek billionaire Aristotle Onassis. Onassis gave her a ring cost 2.6 million USD.
7. Blake Lively
Actor Ryan Reynolds chose a 12-carat diamond ring decorated with 18k pink gold of brand Lorraine Schwartz cost 2.5 million USD to give her wife Blake Lively.
8. Jennifer Aniston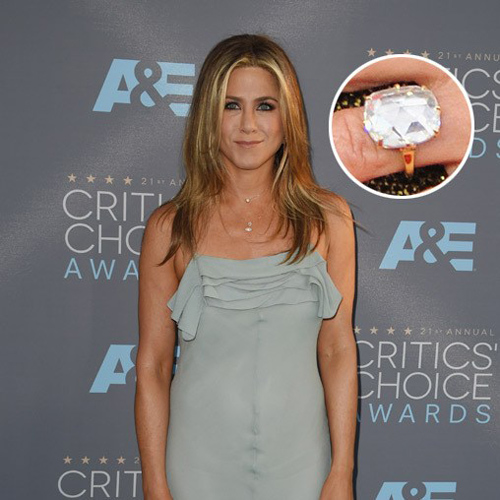 Justin Theroux asked for the hand of Jennifer Aniston by a 10-carat diamond ring cost 1 million USD.
9. Angelina Jolie
Brad Pitt paid 1 million USD to purchase Angelina Jolie a 16-carat wedding ring. Brad had exchanged his idea with jeweller Robert Procop to create this ring. 
10. Amal Clooney
Amal Clooney – George Clooney's wife was impressed with a 6-carat solitaire diamond cost 750,000 USD.
11. Kate Middleton
Although it is not the most expensive one, the ring of Princess Kate Middleton has the biggest spiritual value ever because this 12-carat sapphire ring cost 500,000 USD was a heirloom from Princess Diana – mother of Prince William.
12. Lady Gaga
Lady Gaga was given a 6-carat heart-shaped diamond ring cost 500,000 USD by her ex Taylor Kinney. On backside of the ring, it was carved "T ♡ S" (authentic name of Gaga is Stefani Germanotta).
Please follow and like us: