5. Anord Palmer:
Arnold Daniel Palmer (September 10, 1929 – September 25, 2016) was an American professional golfer who is generally regarded as one of the greatest and most charismatic players in the sport's history.
Dating back to 1955, he won numerous events on both the PGA Tour and the circuit now known as PGA Tour Champions. Nicknamed The King, he was one of golf's most popular stars and seen as a trailblazer, the first superstar of the sport's television age, which began in the 1950s.
There have been better players with prettier swings. But there has never been a more important golfer than the King, Arnold Palmer. He quadrupled purses, brought golf away from the country clubs and into our living rooms, and assembled an Army of devoted followers. He won — and lost — with more flair than any other athlete.
From 1958 to 1968, Palmer reigned amid the azaleas and pines of Augusta National, where Arnie's Army first mustered. With the lone exception of 1963, he was in contention at every Masters during that epic stretch, winning four times, finishing second twice, third once and fourth twice.
Although he made his reputation at The Masters — and made the tournament what it is today — it was the 1960 U.S. Open that truly captured the King at the peak of his powers. The leaderboard on that final day included a chubby 20-year-old amateur named Jack Nicklaus.
Anord Palmer files:
7 Majors, including 4 Masters.
won the PGA Tour Lifetime Achievement Award in 1998
was one of the 13 original inductees into the World Golf Hall of Fame.
4. Bobby Joins:
Robert Tyre Jones Jr. (March 17, 1902 – December 18, 1971) was an American amateur golfer who was one of the most influential figures in the history of the sport; he was also a lawyer by profession. Jones founded and helped design the Augusta National Golf Club, and co-founded the Masters Tournament. The innovations that he introduced at the Masters have been copied by virtually every professional golf tournament in the world.
In the Golden Age of sports, nobody shone brighter than Bobby Jones. Not Babe Ruth, not Red Grange, not Jack Dempsey. From 1923-30, a nation that was truly embracing sports on an epic scale watched in awe as Jones won everything in sight. Then, having no more worlds to conquer, he walked away from competitive golf, at age 28. No sports legend accomplished more in a shorter period of time, and no sports legend walked away at such a young age.
A golf prodigy at age 14, Jones really didn't find his game until the ripe old age of 20, when he began his remarkable run. He took the 1923 U.S. Open in an 18-hole playoff, then ripped off another 12 majors before calling it a career. His record of 13 major championships would stand for 40 years, before a youngster named Nicklaus came along.
Obviously, Jones' crowning achievement came in 1930 with his unprecedented and so far unduplicated Grand Slam. That year, Jones, bore the incredible weight of expectations. Fans and media fully expected him to sweep the majors, which at the time included the U.S. and British Opens and the U.S. and British Amateurs. His run to the Slam almost ended before it began, as Jones sweated out three one-up matches in the British Amateur. He won the British Open by two strokes, then took the U.S. Open by a similarly slim margin.
Only one leg was left, and it was the easiest. Jones waltzed to the U.S. Amateur Championship amid a contingent of Marine bodyguards, and the Slam was his. Less than two months later, Jones retired from competitive golf, his legend secure.
But his contributions to the game didn't end. A few years later, he organized a gathering of friends that came to be known as the Masters. Jones was a fixture at Augusta each spring, but his golf was confined to the friendly kind. The Georgia Tech and Harvard graduate instead practiced law in Atlanta.
The Bob jones file:
13th Major championships, including 4 Us. Open, 3 Open championship, 5 US Amateur and 1  British Amateur
9 time wins PGA tour.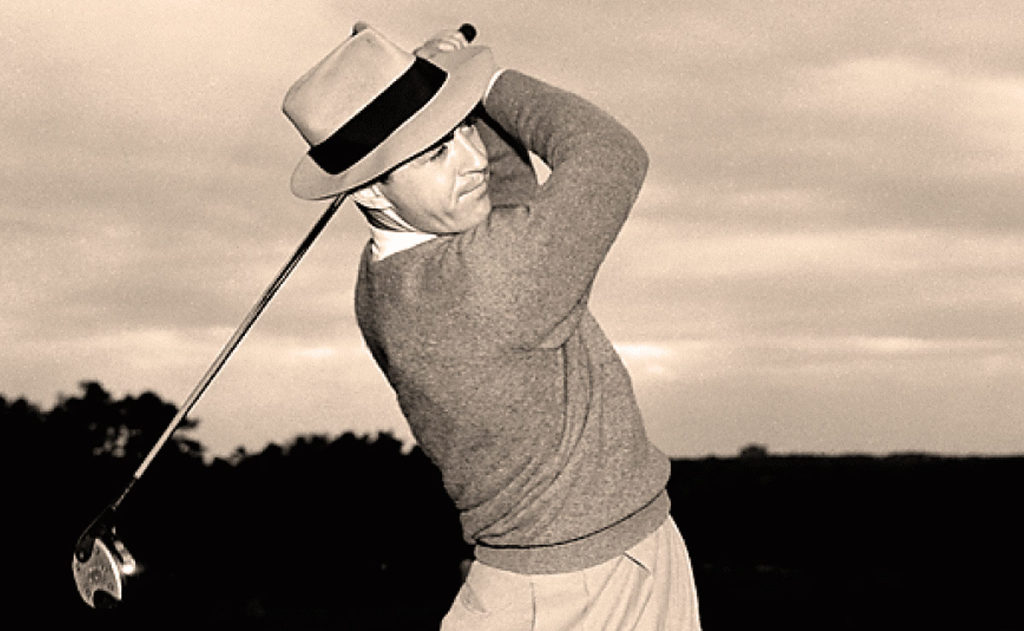 3. Sam Snead:
Samuel Jackson Snead  was born on May 27, 1912 – May 23, 2002, was an American professional golfer who was one of the top players in the world for the better part of four decades (having won PGA of America and Senior PGA Tour events over six decades  and widely regarded as one of the greatest players of all time.
If winning is the standard for determining excellence, there is no greater player in golf history than Sam Snead. Using a smooth, syrupy swing that looked as natural and effortless as breathing, Slammin' Sammy won more golf tournaments than any other player — a staggering total of 82 PGA Tour titles, and anywhere from 135 to 165 victories worldwide, depending on whom you ask. He posted wins in four different decades, from the 1936 West Virginia Closed Pro to the 1965 Greater Greensboro Open (his eighth title in that event), when he was 52 years old.
There is one hole in the Slammer's resume that prevents him from staking a legitimate claim to being the greatest player in history. Somehow, Snead never won the one tournament that seemingly should have been his by birthright. He never won a U.S. Open. But his near-tragic failures at the Open do not diminish his accomplishments.
His swing was such an efficient device that it served him well into his golden years and remains the gold standard for golf swings. In 1979, he offered golf fans one final glimpse of his greatness, as he became the first player to score below his age, shooting 67 and 66 in the Quad Cities Open at the age of 67. By then, and for the rest of his life, Snead was a beloved ambassador and advocate for the game.
The Snead File
A record 82 PGA Tour wins, spanning 1936 to 1965
Seven major championships, including three Masters and three PGA Championships
Oldest player to win, make a cut and shoot his age in PGA Tour history
Posted top 10s in majors in five different decades.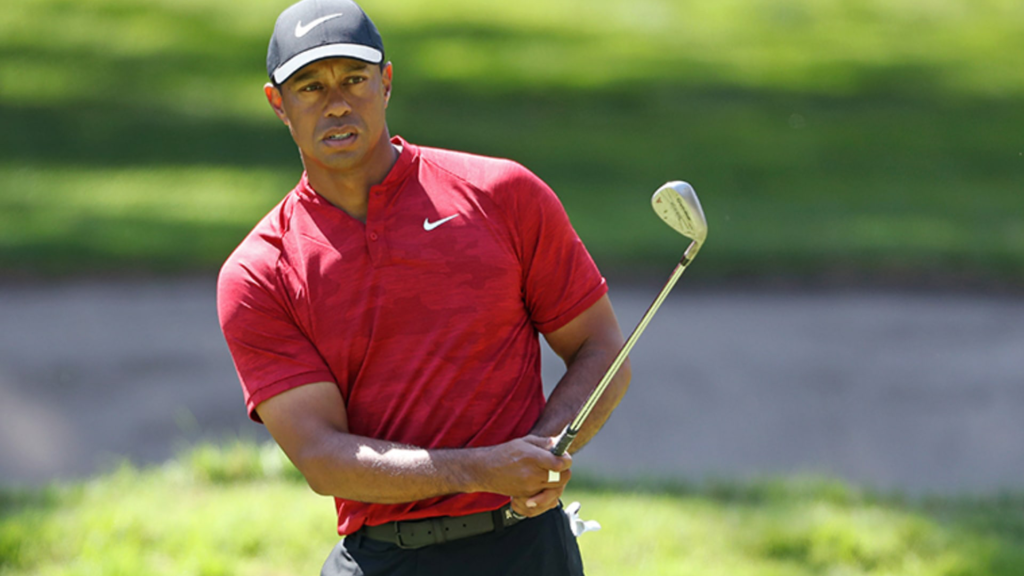 2. Tiger woods:
Tiger (Eldrick) Woods, born December 30, 1975, is a professional golfer and entrepreneur. Since turning professional in 1996, Tiger has built an unprecedented competitive career. His achievements on the course–106 worldwide wins and 15 majors–have mirrored his success off the course as well.
In April 1997, Woods began a trajectory that led him directly to the top of this list. He so dominated the most storied and tradition-steeped tournament in golf that the sport was changed forever. We all remember the Masters-record 18-under par total that Woods shot in his first Masters as a pro. We remember his incredible 12-shot margin of victory. (Runner-up Tom Kite's 282 total would have been good enough to win 17 previous Masters, but it only got him within 12 shots of Tiger.
We remember the way his mammoth drives turned the par-5s into pitch-and-putts. What many people don't remember about the 1997 Masters is how badly Tiger started the tournament. On the front nine on Thursday, Woods went out in 40, leaving him 4-over par. That, apparently, is when the stars aligned and the golf gods smiled. Over the next 63 holes, Woods swept through Augusta National like a tornado, toying with the course and demoralizing the greatest players in the world.
Tiger's runaway, far from putting a crimp into the television ratings, instead gave golf its greatest ratings winner to date. In 1996, before Woods turned pro, the ratings were 9.2 on Sunday. In 1997, when Woods won, the number jumped to 14.1.
The rest, as they say, is history — 15 major championships, 82 PGA Tour wins, the lowest career scoring average in PGA Tour history, 10 Player of the Year awards, and, yes, scandal and disgrace. But the impact and the level of achievement are undeniable and unprecedented. Quite simply, at his best, Woods has played the game better than it's ever been played. And now that he's won the long-awaited 15th major, Jack's record of 18 is back in play. Don't ever count him out.
The Woods File
82 PGA Tour wins, tied for most all-time with Sam Snead
15 major championships, second all-time to Jack Nicklaus
Only player ever to win four consecutive majors
Lowest scoring average in PGA Tour history
Scoring average of 67.79 in 2000 the lowest single-season average in Tour history
PGA Tour Player of the Year a record 10 times
1. Jack Nickclause:
Jack William Nicklaus (born January 21, 1940), nicknamed The Golden Bear, is an American retired professional golfer. Many believe him to be the greatest golfer of all time. Over a quarter-century, he won a record 18 major championships, three more than Tiger Woods. Nicklaus focused on the major championships—Masters Tournament, U.S. Open, Open Championship and PGA Championship—and played a selective schedule of regular PGA Tour events. He competed in 164 major tournaments, more than any other player, and finished with 73 PGA Tour victories, more than anyone except Sam Snead and Woods
Nicklaus brought out greatness in his opponents — Palmer, Player, Watson, Trevino. But more importantly, he made golf a greater game through his physical skill and strength, his mental toughness, his sustained level of excellence and his genius for strategically dismantling golf courses around the world.
You know the litany of accomplishments. 18 major championships, more than Hogan and Palmer combined. A mind-boggling 37 top twos in majors.
And lest we think the Tour of the 21st Century outshines the Tour in Jack's prime, consider this: Nicklaus fought many of the game's greatest at their very peak and beat them all. And when he didn't beat them, he coaxed their very best out of them.
As if to prove the point, at age 46, Nicklaus was able to muster enough of his old-time wizardry to outduel names like Ballesteros, Kite, Norman — all of them at the peak of their powers — to win his sixth Masters in 1986 in one of the greatest sports moments of all time.
In his golden years, the Golden Bear has continued to shape the game with his prolific golf course design company.
The Nicklaus File
Winner of 73 PGA Tour events, including a record 18 major championships
Winner of a record six Masters
Finished in top 5 in majors a record 56 times, in the top 10 a record 73 times
Posted lowest scoring average on Tour eight times
Won PGA Tour money title eight times
Won at least two PGA Tour events in 17 consecutive seasons (1962-78)
Please follow and like us: