Angelina Jolie was born on 4 June 1975 in an art family in Los Angeles California (US). Her father is actor Jon Voight who used to achieve Oscar award, while her mother is a well-known drama actress Marcheline Bertrand. Inherited talent gene from her parents, Jolie had a knack for acting since she was a child.
However, her childhood was not pleasant. It could be denied that Jon Voight was a talent actor, but he was a womanizer and divorced Jolie's mom when she was 1 year old. After the breakup, Mrs. Bertrand had raised Angelina and her brother alone.  
Since she was young, Angelina owned outstanding beauty and always caught other people's attraction. However, the lack of a father was one of the reasons made her independence and rebel. 
When she went to school, Angelina followed gothic style with black-dyed hair and many tatoos. However, her weird appearance could not fade her beauty. In contrast, it made her more outstanding as an attractive "weird flower". 
Angelina Jolie teenager owned a natural beauty with a powerful spirit of a girl. She consistently denied his father and refused last name Voight. She just used middle name Jolie when applied for her stage name. Only until her mother passed a away in 2007, Angelina began to soften her heart and patch up with her father.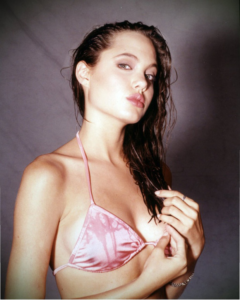 The period of being a model and beginning of an actress, Angelina Jolie lived so widely that famous journalist Halperin described her sexual was not simple at that time. When she was 14 years old, she lived with her boyfriend as a husband then broke up after 2 years had been together.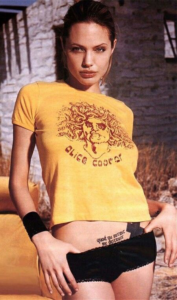 Regarding love, once fell in love with anyone, Angelina Jolie would love that man wholeheartedly, which could be considered as lovesick. Before the breakup with Brad Pitt, she had two famous divorces including Jonny Lee Miller (1996-1999) and Billy Bob Thornton (2000-2003). In this period, the beauty still followed strong style but began to be gentle and  exquisite. 
In terms of Jonny Lee Miller, both of them wore a tiny bottle containing blood of each other. Regarding Billy Bob Thornton, Angelina Jolie got a tatoo of his name on her left arm and always expressed her pride about it whenever appearing before the public. In 2013, many magazines reported that Jolie had spent 12.2 million pounds on purchasing Brad Pitt a heart-shaped island for his birthday. 
How she treats her beloved family memebers was also weird. She used to kiss her biological brother armorously at Golden Globe Award and Oscar Award ceremonies. Furthermore, she used to give her son Maddox a knife as a gift when he was only 7 years old. She shared that: "My mom asked me to buy a knife when I was 11 years old. I just bought Maddox a similar gift." 
Over time, Angelina Jolie had been faded. Instead of rebelious behaviors, she has enjoyed in charity and social activities as well as being a great mom of 6 childre. 3 of them are adopted children including Maddox (Cambodia), Pax Thiên (Vietnam), Zahara (Ethiopia), and 3 remains are biological once consisting of Shiloh, Knox, and Vivienne.
Recently, Jolie has become a film director with some movies paying attention to content like Unbroken and First They Killed My Father. All of them conveyed the message about war and human civilization.
Please follow and like us: