The Oscar-winning actress Anne Hathaway excitedly welcomed her second child with her husband Adam Shulman last year. We all know that the two lead eight happy years in marriage. But have you ever wonder how they met each other as well as how they tenderly fell head over heels in love? Follow us to find out their romantic love between Anne Hathaway and Adam Shulman.
 Adam Shulman- an ideal man for Oscar-winning actress
 Adam Shulman was born on April 2, 1981, in New York City, USA, as Adam Banks Shulman. He is an actor and producer, well-known for many impressive movies such as Puzzler( 2011), the sci-fi comedy The Shower( 2015). Adam and Hathaway had collaborated in the romantic film One song in 2015 after three years of getting married. Taking part in a producer and a husband, Shulman always tried his best to finish his roles. he is really an ideal man for Anne Hathaway.
Anne Hathaway and Adam Shulman
The first meeting of destiny in Anne Hathaway life
According to Hathaway, she met Shulman at the Palms Springs Film Festival in November 2008, just five months after Hathaway cut things off with Raffaello Follieri, through a mutual friend. At that time, they had a chemistry reaction. Hathaway told a friend at the time, "I'm going to marry that man," and telling Harper's Bazaar. But Shulman hadn't given Hathaway any suggestion because Hathaway wasn't supposed single.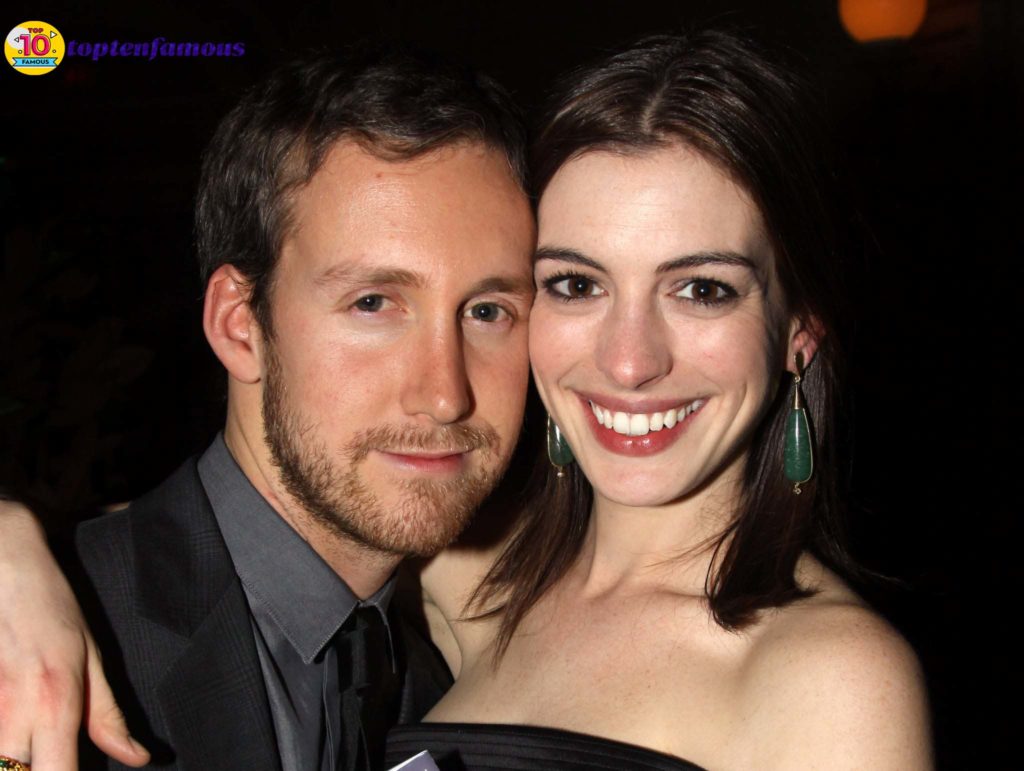 Anne Hathaway and Adam Shulman
However, until six weeks later, Hathaway asked him on their first date, a trip to New Orlean. The reason is she had an extra ticket and her two best friends couldn't go, so she took a risk and extended the invitation to Shulman. The result is their loving history, as Anne Hathaway reported in David Letterman's show. How cute and brave she is!
Low-key wedding is a special thing
 The two got engaged in November 2011, and a year later, they happily lead a low-key wedding. According to E! News, the lovebird tied the knot with a small ceremony in September 2012 at a private home in Big Sur, California. Anne Hathaway wore a stunning Valentino gown while Shulman covered himself with a glamour vest. The two said their vows in front of their 150 guests, including their best friend and close-knit relatives.
Shulman and Hathaway welcomed their first child on March 24, 2016. After that, they happily attained their second child on in November 2019. They are Jonathan Rosebanks Shulman and Jack Shulman respectively. 
Though she doesn't often share a lot of couple selfie photos, you'll probably recognize her enormous love for her husband from outside of social media. And this is also the critical element to keep each other closed until now.
Please follow and like us: