Megan Fox and her husband, actor Brian Austin Green, had experienced many ups and downs during nearly two decades of attachment.
Megan Fox and her husband, Brian Austin Green, had been dating since 2005 on the "Hope & Faith" filming set. At that time, Megan was only 18 years old. Brian was 30 years old and experienced a broken marriage and had a son.
The two fall in love right from the first day of the meeting. "I loved him immediately", Megan revealed in The New York Times magazine in 2009. "When people huddled up at the monitor to see Brian's footage, he accidentally touched my leg and I felt like there's electricity running through it. It's like magic."
Brian Austin Green expressed his impression of Megan: "She's always hot. I stand next to her looking like a beauty and a beast." At that time, Brian was a famous star in the hit TV series "Beverly Hills, 90210".
The couple dated privately because Megan was too young and there was a big gap between their ages. In November 2006, the two had their engagement. However, in February 2009, the couple broke up and canceled the marriage. Soon after, Megan had a brief affair with "Transformers" co-star Shia Labeouf.
More than a year later, the sexy actress reunited Brian Austin Green. They got engaged again and married just two weeks later. They help a simple wedding in Hawaii in June 2010.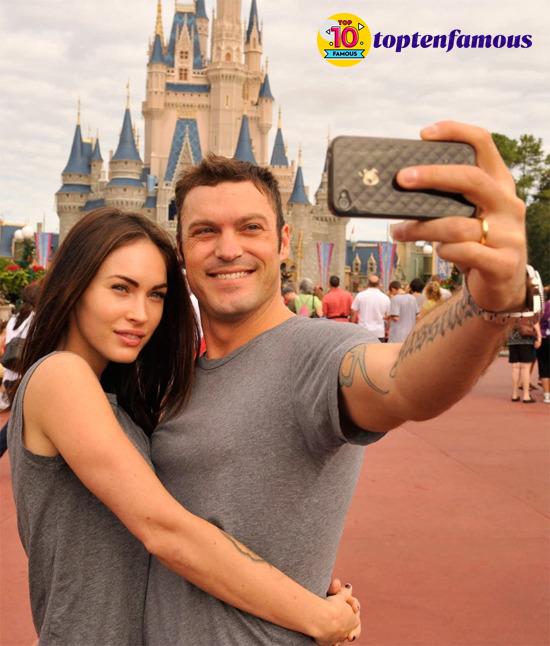 The couple was intimate together at Disneyland in Florida, November 2010. Megan said: "I can't imagine what it would be like without him". The actress also shared on Us Weekly after marriage: "We will always be together. I love him more than the dating period."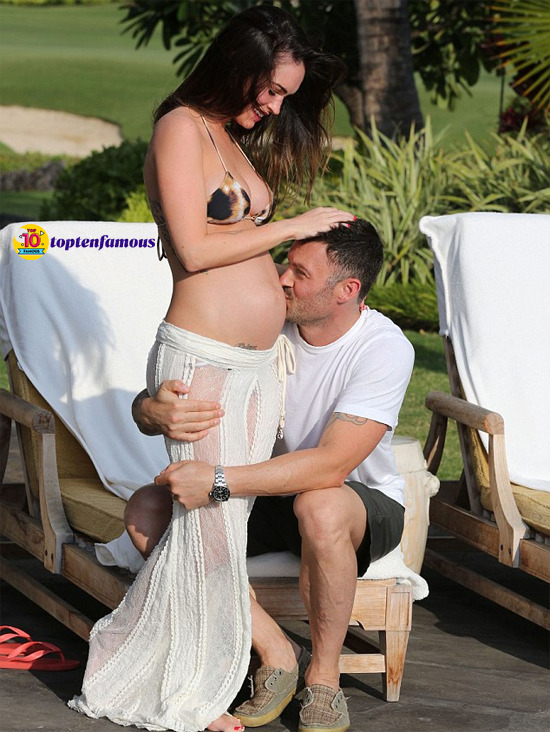 In 2012, Megan became pregnant and gave birth to her first son Noah in October. In early 2014, she was out of the plan to give birth to her second son, Bohdi.
Becoming the mother of two young sons in just two years caused Megan's life to be turned upside down. In The Stir magazine in 2014, she once said that she felt exhausted because of it.
"Life obviously became completely tangled when you have two children under 2 years old. Before you give birth, you really don't understand what a busy job is and how to handle it.
That same year, Megan confessed on ETonline that she and her husband were not close for a long time because she was constantly giving birth and was too busy with her children." Brian could not receive any cuddles. My two-year-old son slept with his parents' bed. Therefore, there's no way for us to do it," Megan explained.
In the summer of 2015, Megan Fox and her husband announced their break up. The source revealed on Us Weekly, Brian blamed Megan for being too busy working. The actress said that her husband did not help her to take care of her children to film. Megan filed for divorce in the Los Angeles court in June 2015. In September, her husband signed a divorce application form.
However, in early 2016, Megan suddenly announced pregnancy. The actress accidentally became pregnant again with Brian while they were handling the divorce. Because of the baby, Megan canceled the divorce and returned to her ex-husband. The couple gave birth to a third son in August 2016 and gave him a meaningful name, Journey River Green.
In an interview last year, Brian said that maintaining a happy marriage after years is difficult. It required the nurturing of both. The 46-year-old actor also confirmed that he and Megan stopped at three children. They would not give birth anymore. 
In April, Brian caught attention when he was no longer wearing his wedding ring. Later, Megan also appeared alone at the supermarket, her hand removed the ring. According to Mailonline, the pair lived separately in two different places during the epidemic season.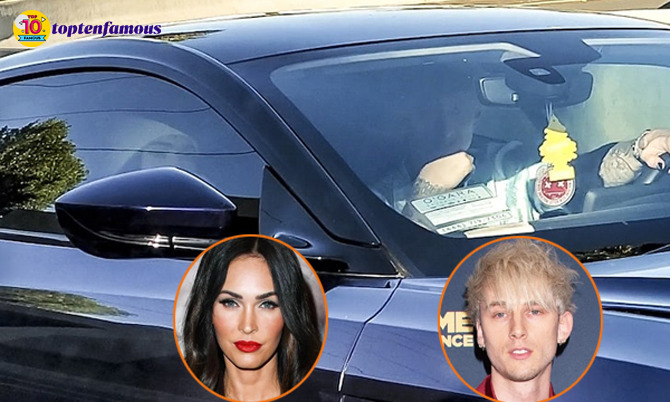 On May 15, paparazzi caught Megan with rapper Machine Gun Kelly, her co-star in the unfinished film "Midnight In The Switchgrass". Rumors of a love affair between them appeared.
On May 18, Brian Austin Green confirmed them separated from the end of last year. The actor said Megan had changed since filming "Midnight In The Switchgrass" abroad. She wanted a free life and more experience.
Brian and Megan agree to live apart for a while to look at the relationship again. The two still love and respect each other. They still meet and take their children out to play. Brian also denied the information Megan adultery with her young co-stars. He asserted his wife was not a traitor.
Related: Are All Movies of Megan Fox Flops Except for Transformers?
Please follow and like us: