1. Heidi Klum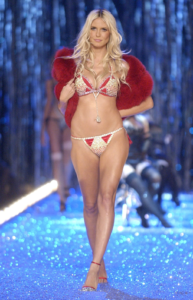 Victoria's Secret used to have a romantic and sexy angel during 13 years. She is Heidi Klum who joined in VS in 1997 and only after 2 years, this German model was chosen to perform Fantasy Bra attached 2000 diamonds and sapphires, which cost up to 10 million USD. Her contribution had brought huge income for this brand especially in 2005 when the income was 11 million USD.
2. Tyra Banks
Tyra Banks was the first African American appeared in the cover of VS's catalog. She owns a hit body with big boobs and beautiful hip. Therefore, every step of "Mother of America's Next Top Model" always attracts audience. Banks achieved the honor to wear Fantasy Bra Diamond Dream Bra cost 3 million USD in 1997 and Heavenly "70" cost 10 million USD in 2004.
3. Karolina Kurkova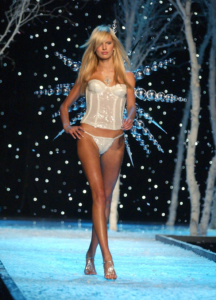 Karolina Kurkova is 180 cm high with one of the longest legs in "angel team". Although she had just worked with the brand for 3 years, she was usually mentioned in articles about her sexy beauty and how professional she dealt with situation. In 2006, Kurkova still had a perfect catwalk despite one of her shoes was untied. 
4. Gisele Bundchen
Strong and decisive steps when performing catwalk become the brand of Gisele Bundchen, especially when she is Victoria's Secret' stage. This Brazilian model was chosen into the list of the sexiest and richest angels within US underwear models many times.  
5. Adriana Lima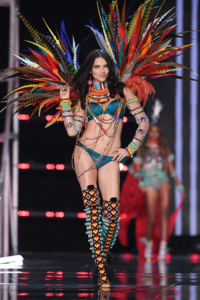 Annual year 2018 was the last time Adriana Lima performed on the stage of Victoria's Secret. This was a pity for her fans because this Brazilian model had left deep impression in audience's mind. Lima has fast step and solid pace. Her speciality is her hand point and radiant smile for watchers at the end of the runway. 
6. Alessandra Ambrosio
Alessandra Ambrosio also said goodbye to the brand to follow her own career. Like Lima, Ambrosio is belong to the sexiest and most beautiful angel generation. Fashion world always gave compliments for her perfect body and special beauty symbolized for South American women.  
7. Miranda Kerr
Victoria's Secret is a firm basement for Miranda Kerr's success. There are some audiences shared that whenever Victoria's Secret, the first thing came in their minds was this Australian supermodel with an angel face and seduced appearance. 
8. Candice Swanepoel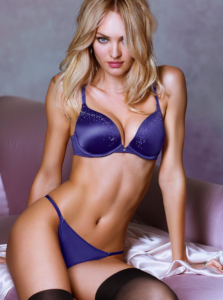 Candice Swanepoel, who is a South African model, brings fresh power and sweet face to the runway like nickname "Sweet Candy" many fans use for her. This 1988 born model becomes a symbol of Victoria's Secret thanks to her golden ration body and flexible steps. In 2013, Swanepoel performed Royal Fantasy Bra cost 10 million USD.
9. Karlie Kloss
It has to mentioned Karlie Kloss in the list of Victoria's Secret's darlings. Joining in the brand since her 19 years old and was taken straight into angel team, this 188-centimeter model had a lot of chances to brighten up like a star. However, after 2 years, Kloss decided to leave VS to concentrate on her study and her own projects.
Please follow and like us: