Robert was named after his father, Robert Downey Sr., who was an actor and filmmaker. His father passed on the love of movies to his son, but it was this father who led the life of Robert Downey Jr. encountered many difficulties. According to the "Iron Man" star, from the age of 6, his father gave drugs to his son to use. Since then, drugs and alcohol had become an integral part of Robert's life.
Robert Downey's father then expressed his regret of giving drugs to his son
In 1984, Robert met actress Sarah Jessica Parker, the star later hit with the movie "Sex and the City". In love for 7 years, the couple finally broke up because of his addiction. Later, the actor recounted, "She tried to help me. Sarah Jessica often helped me wake up after drunks and we went out to shop together. I love Sarah Jessica, but the love wasn't enough. I wanted to get over my addiction very much. And, after much suffering, she found a home with another star".
Robert and actress Sarah Jessica Parker
At the age of 27, Robert achieved his first success with the role of comedian Charlie Chaplin in "Chaplin". This role had helped the actor be nominated for an Academy Award in the main actor category. Also in 1992, he married his new girlfriend Deborah Falconer and the following year, they welcomed a son together.
\
Robert and Deborah Falconer
However, his career growth and his happy life did not last long. Then a few years later, Robert was quickly depressed by drugs.
In 1996, Robert was arrested for possessing heroin, cocaine and a shotgun while driving too fast. The following month, during his parole, he infiltrated his neighbor's house while he was under the influence of a substance, and slept in a bed of this house. The actor was sentenced to 3-year probation and had to undergo compulsory drug tests. In 1997, Robert missed a checkup and spent six months in jail.
In 1999, the star missed a drug test and was sentenced to 3 years in prison. At this time, almost all Robert's film projects were canceled or not released. After being detained for nearly a year, a judge gave the actor an early release due to the additional time he was detained in previous arrests.
However, until 2001, the star continued being entangled in drug-related troubles and had to go to rehab centers. Robert's career at this time was thought to fall into a deep pit, there was no hope of being able to revive anymore. Furthermore, after his last arrest, his wife Deborah decided to break up and take their son away.
Robert in an occassion of meeting his ex-wife and his son in 2007
With his dashed career and broken-up family, Robert decided to start over with some film projects. In 2003, when he was in the movie "Gothika", he met the woman who gave him the greatest motivation, Susan Levin.
At that time, Susan was in charge of producing this film. Robert fell in love with her at first sight and tried to "flirt" the producer twice but it was unsuccessful.
Susan then thought that Robert was eccentric. She said: "We were in Montreal preparing to film "Gothika", and had lunch with the director and Halle Berry. Everyone ordered Japanese food, but Robert said that oatmeal was the "super food". He brought small boxes of oatmeal porridge for lunch, he also had a box of herbs and other things in it, and then he did yoga poses. He was interesting but he was weird". In addition, another reason given by Susan was because Robert was an actor, while she had a real stable career.
Robert and Susan
After two failed attempts, Robert was successful to invited Susan to go on a date and since then they fallen in love with each other. Believing this was the love of his life, Robert proposed to Susan after only 3 months of dating, though he had not completed the divorce procedure before.
Contrary to Robert's addiction past, Susan grew up in the suburbs of Chicago and was an elite student. She had never touched a cigarette. Upon receiving Robert's proposal, Susan forced him to give up drugs completely, if violated, she would immediately leave. Two years after obeying his wife, Robert held a happy wedding with Susan in New York. Susan then changed her name to Downey after her husband.
In the past, Robert had relapsed many times in spite of being in prison. But since Susan's love, he had completely stopped the addiction and slowly rose to become a top Hollywood superstar. In 2008, he was also nominated for a second Academy Award for the movie "Tropic Thunder".
Not stopping there, the actor continued taking the main role in "Iron Man", the film that helped him gain worldwide popularity and have the highest income. Initially, the film director had intended to choose an emerging actor. Nicolas Cage and Tom Cruise also expressed their wish to play this role. But in the end, Robert was chosen because the director thought that both he and the character Tony Stark had experienced many ups and downs in life. Therefore, Robert was the one who could perform the role best.
After achieving great success, Robert moved to thank his wife: "The old idiom is always true that behind every good man is an extraordinary woman. Most of my success, if not all, it's thanks to Susan. We've been a great team to work with, and all the luck that I've ever talked was about Susan". "Iron Man" even expressed his love for his wife with a tattoo of "Suzie Q" on his upper arm.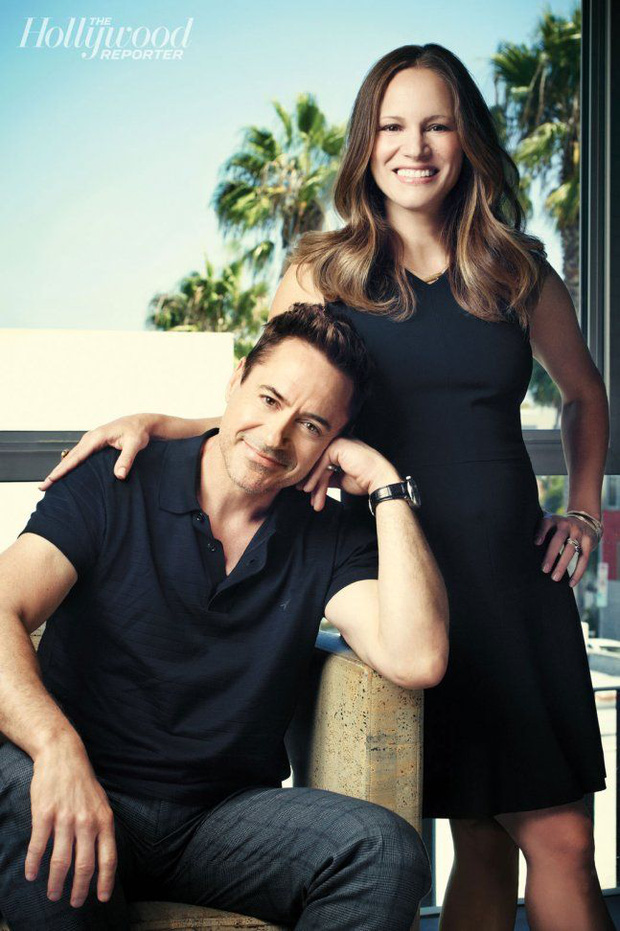 Director Guy Ritchie said it was Susan who helped Robert to play the leading role in the movie "Sherlock Holmes". She had created an additional advantage for her husband's return to the film. Guy added: "They are the best illustration of a harmonious marriage I've ever seen. They are like yin and yang, so Robert is a pleasure to work with. He was able to be a hateful name without Susan controlling."
Not only that Susan changed Robert, but herself also had changed since Robert came in her life. Susan said: "I used to be a person who only knew about work. I didn't think about building a home or getting married. I didn't think about my children. It's not that I didn't want those things, I just didn't think about them. And then one person appeared in my life like a whirlwind, a ball full of energy, passion, creativity and beauty. He helped me to open my heart".
After a past of imprisonment and addiction, Robert has now become the world's richest and most powerful superstar. The prison or rehab center could not change him. Yet thanks to love, the actor had completely risen from the dark pit. Truly, only love can do this miracle.
They have had a son (in 2012) and a daughter (in 2014)
Please follow and like us: