After years of rolling in Hollywood, Will Smith has become one of the most successful colored actors of all time. He has joined in 17 successful films having income over 100 million USD. Moreover, many people must be surprised to learn that acting was just a crossroads on the path of his very successful career at that time – music.
Will Smith's full name is Willard Carroll Smith Jr. He was born and raised in Philadelphia, Pennsylvania in a small middle-class family. Although he didn't have much experience in the arts, his family loved music very much. This was also the reason from an early age, Will Smith had expressed his desire to perform and compose with many different instruments. At the age of 11, he first learned hip hop culture and immediately fell in love with rap music. After graduating from high school, the actor turned down a scholarship at the prestigious MIT (Massachusetts Institute of Technology) and began to pursue the path of becoming a professional rapper.
The duo DJ Jazzy Jeff & The Fresh Prince first received the prestigious Grammy Award in 1989. Back then, Will Smith was only 21 years old. 
Although Will Smith was not entangled in terrible trouble, he was still tempted by the rich pleasures of success that came too soon. In late 1989, the US Internal Revenue Service (IRS) accused him of tax evasion of US $ 2.8 million. This was an extremely difficult time for him when new music products were continuously turned away from the audience. In the meantime, the male singer's career suddenly changed into a new direction: becoming an actor for the long-running television series "The Fresh Prince of Bel-Air". In fact, Will Smith had never intended to become an actor. However, due to financial difficulties, the male star reluctantly nodded to manage the debts.
The series which lasted from 1990 to 1996 was quickly applauded by the audience. This not only helped Will Smith pay off his debts but also helped the public to have a new view of him. From here, his life turned to a new page. Success followed success, many years later, Will Smith continued becoming a guarantee name for the box office success of many famous movies such as Made in America, Six Degrees of Separation, Bad Boys, etc. According to the professionalism, he possessed a natural acting style which was easy to enter the hearts of people even without going through formal training schools. In 1997, he first turned into agent J in the movie "Men in Black" – one of the most iconic works at Hollywood.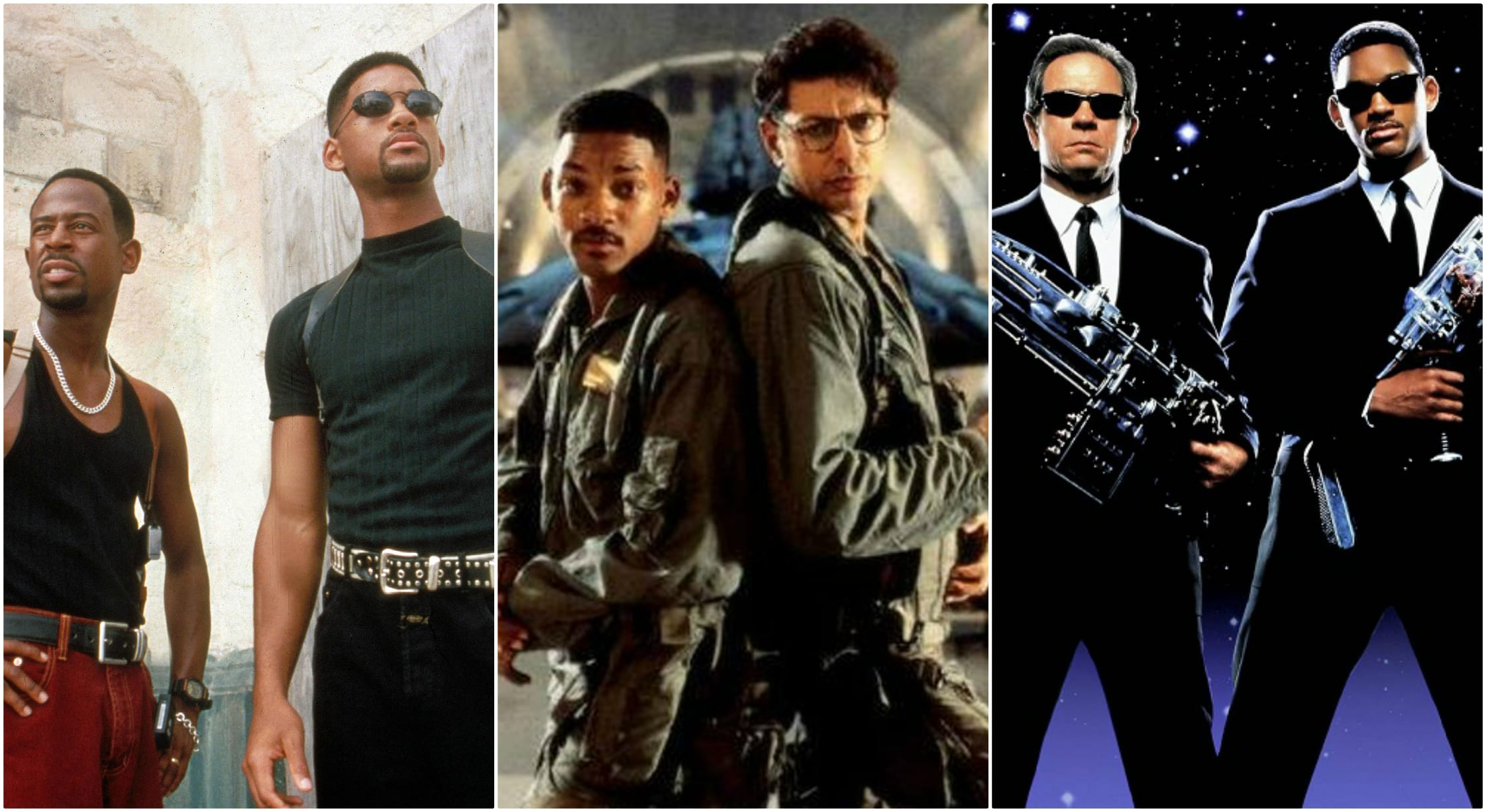 The Boys, Independence Day and Men in Black (left to right)
The name Will Smith quickly flashed, which made him be one of the most successful actors after "Men in Balck" earned half of a billion dollars after only 6 months of its release. This was also the premise for him to try out deeper and more complex roles in "Ali" and "The Pursuit of Happyness". These two works helped him get the prestigious Oscar nomination.
More than 10 years later, Will Smith, now a true actor, still continued diligently participating in various blockbusters. Currently, the young boy in the "Fresh Prince" has become more and more mature through each role. It is still his "jerked" acting that helps bring laughter to everyone but it was inserted into a warm heart of a middle-aged man which is sobbing and experienced.
Regarding his personal life, although he has experienced the breakdowns, Will Smith is now finding his own home with his wife and children who are both active in the entertainment industry. For him, the family is always a comfort and a place he finds after a long day working in luxurious and busy Hollywood. 
Please follow and like us: