With 175 million followers on his personal Instagram page, Kim Kardashian then and now has been among the top influential celebrities in the world. As a result, Kim's life is so luxurious, high-class with a sexy style. This can easily keep up with the social network.
Having many scandals but being a millionaire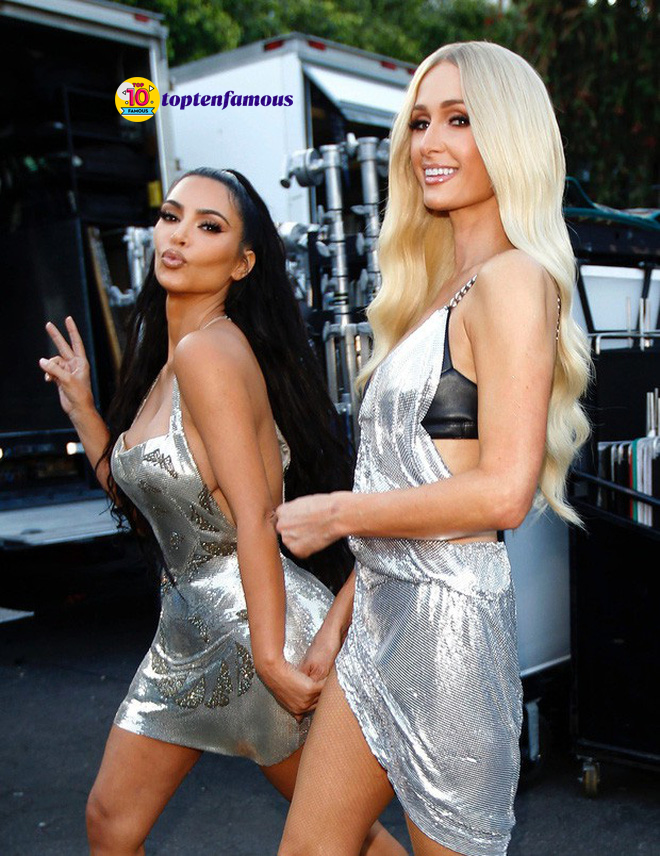 Before creating the current charisma, Kim was the one who followed party queen Paris Hilton as a close friend. At that time, nobody cared if her hips were round or not. 
Until the sensitive sex scene between her and singer Ray J was leaked in 2007, Kim's life officially turned to a new page.
She did not public her apology like what other people often do. In contrast, Kim took the opportunity to launch the TV show "Keeping Up With The Kardashians" (KUWTK). This show focused on the flashy and extravagant life including eating, shopping, and even conflicts among Kardashians – Jenner ladies. KUWTK was so successful. It went down in history as one of the most popular reality TV series in the country.
As soon as the first season of "Keeping Up With The Kardashians" ended, Kim Kardashian actively strengthened her influence. She tried to keep her name by participating in B-series movies such as Disaster Movie, Deep In The Valley. In addition, she became a guest for America's Next Top Model and appeared briefly in a few TV episodes like CSI, How I Met Your Mother, etc.
However, she nearly had no talent in these fields. It made Kim Kardashian only attract attention with scandals such as sexy style, nude photography, or shocking speech. Thanks to the photo shoot for Playboy adult magazine that her name appeared on many newspapers.
Only Kim Kardashian was not enough, her husband, rapper Kanye West was troublesome with a series of scandals, especially the hard-hitting edge with Taylor Swift.
In return, this "super round 3" proved herself was a business-minded woman by taking advantage of the public's hatred. She earned nearly $ 20 million in profits from a phone game called "Kim Kardashian: Hollywood" despite many critism of the bullshit game content.
Kim just needed to dress nicely to attend the opening event of Topshop store in Los Angeles to get the paid of 50,000 USD. Attending New Year's Eve party at 1Oak nightclub in Las Vegas, she also easily earned $ 300,000. Kim Kardashian's influence was so strong that the 352-page photo book series consists of her selfies also sold 125,000 copies in just the first year. 
Cosmopolitan also gave a piece of interesting information that between February 2013 and February 2014, the Kardashian family successfully sold 2,000 items on eBay. This earned more than 6 billion from the auction.
The billion-dollar fashion and beauty industry
Since dating Kanye West, who was a famous designer, Kim Kardashian had been introduced to many famous fashion designers of the world such as Riccardo Tisci of Givenchy and Olivier Rousteing, the Creative Director of Balmain. This created the basement for her to step into the fashion industry.
From eldest sister Kourtney to younger sisters Khloé, Kylie, Kendall all launched their own collections. Kanye West's Yeezy brand also created an undeniable attraction. In 2011, Kim launched the Kardashian Kollection collection featuring Kourtney and Khloé. Although it did not achieve the expected success, the Kardashian sisters also earned up to 30 million USD.
Moreover, the cosmetic brand KKW Beauty of Kim was operated quite well. The speed of consumption was so speedy that it threatened the status of other famous high-end brands. Business Insider reported that Kim's brand sold up to 300,000 Contour and Highlight Kits products on the first day of launching. It reached a turnover of $ 14.4 million.
More surprisingly, Crystal Gardenia, the first perfume launched by KKW Beauty, quickly sold out within 6 days. Product Kimoji also achieved a huge turnover of 1 million USD after only 1 minute of sale.
Kim is beautiful and knows how to make women crazy about her
Baby Kim on the left
With the mixed blood from Armenia and Scotland (father) as well as the Netherlands (mother), Kim's beauty has a bit of European classic and the beauty of Middle Eastern women. This created a quite harmonious appearance overall.

Kim (in front of) with her grandma and other sisters
Kim also showed off her photos on the beach with her sister when she was 13 years old in Mexico. At that time, she had bigger boobs than her peers. "Look at my boobs? Too sexy for age 13 right?", she shared.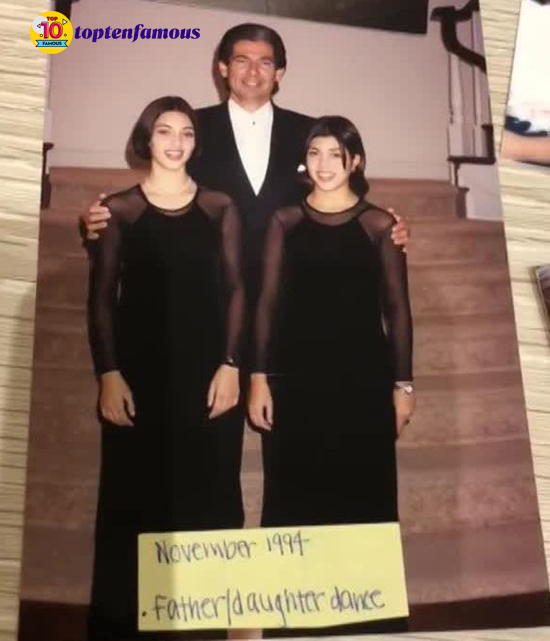 Kim with her father and sister Kourtney at the age of 13
When sharing a picture of her 9th-grade year on Instagram, Kim Kardashian received a storm of compliments from netizens for her pure beauty. It is undeniable that Kim Kardashian is having her current beauty thanks to plastic surgery. But her bright eyes, bushy eyebrows, and high nose bridge prove her natural beauty from her young age.
Knowing her beauty and the demand of women, Kim does not hesitate to share all the secrets of becoming more beautiful for them. This has also helped to extend her influence up to now.
Related: Watch the transformation of Kim Kardashian then and now HERE
Please follow and like us: