Being the youngest self-made billionair in the US, Kylie has never hesitated to invest in expensive and luxurious clothes to dress with her daughter Stormi. 
At Christmas 2019, Kylie Jenner and Stormi wore luxurious emerald green dresses from the brand Ralph & Russo. Ralph & Russo comes from Europe, which produces high-class clothes and luxurious fashion accessories with expensive prices. 
Kylie Jenner is one of the most fancy mothers at Hollywood. She has always been ready to spend a lot of money on own design from Ralph & Russo for Stomri and herself. In addition, this young billionaire mixxed this charming dress with ton sur ton jewerlies and nails to become extremely outstanding.
Stormi Webster is daughter of Kylie Jenner and her ex Travis Scott. Kylie gave birth in February 2018 when she was 20 years old. Despite the success in her own cosmetic business, Kylie Jenner could balance the time for her job and her daughter. She enjoys choosing the most fashionable clothes for Stormi. Also at Christmas 2019, Kylie wore couple clothes decorated by patterns of Santa Claus and Christmas tree with her daughter at home. This photo got a lot of compliments and Christmas wishes on Instagram.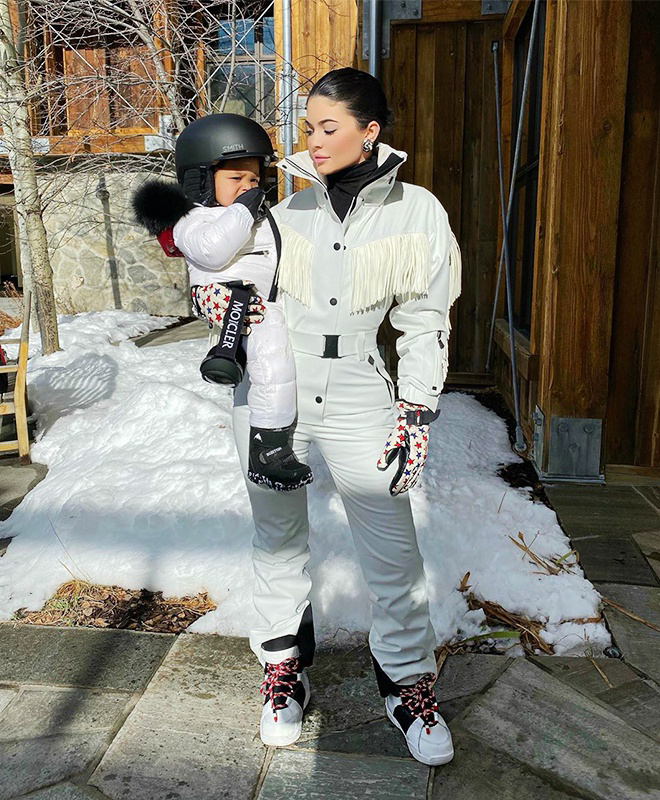 In winter, Kylie wore antifreeze suits for Stormi and herself when entertaining in a snow mountain. Kylie always took care of her appearance by careful makeup. She mixxed with patterned gloves and shoelaces to look energetic, while Stormi seemed to annoy with the cold. 
Used to be a model and working in beauty field now, Kylie gains high evaluation on her fashion style. In spite of dressing simple outfits, she still looked fashionable. Kylie matched a whole gray sport suits with a colorful beanie, which was the same with daughter Stormi. 
Appearing at Met Gala 2019 in a transparent dress attached with feather, Kylie "burned other's eyes" by cut out design to show her breast. She became more remarkable with ton sur ton lavender color hair. Stormi was so cute in similar clothes to her mom. In addition, she wore a toupee, which made Stormi look the same as Kylie. This photo gained more than 12 million likes on Instagram due to the loveliness of Kylie's "chibi version".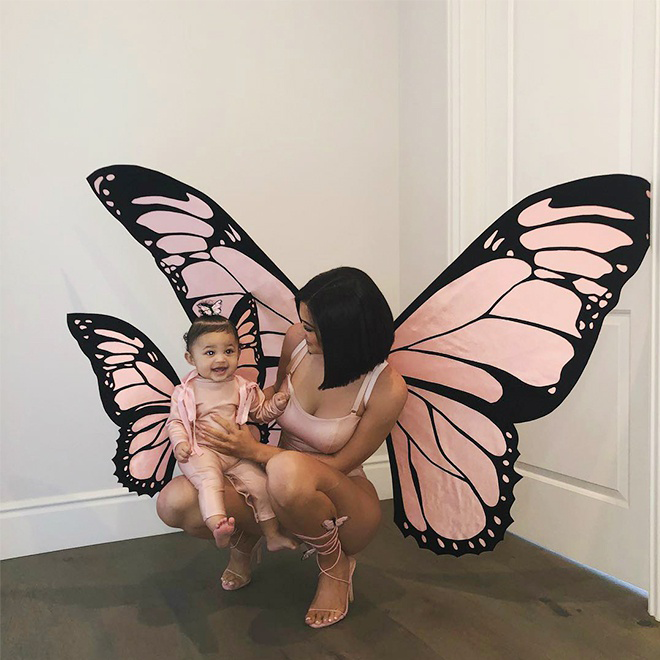 In Halloween 2018, Kylie and Stormi wore nude pink suits and butterfly's wings. While Kylie dressed tight bodysuit to show her sexy bodyshape, Stormi wore a little butterfly on her hair, which made her so cute. 
Kylie used to share that she has faced a lot of challeges after giving birth to Stormi. Despite the wealth, she still loves taking care of her daughter by herself. Her hobby is to design clothes for them and then to take photos with her beloved child. 
In a vacation, Kylie caused impression by dressing an outstanding neon bikini. Of course, she didn't forget to wore a ton sur ton suit for Stormi. Kylie looked so excited in this trip which happened before the first birthday of Stormi. 
Please follow and like us: