Enduring Process of Vin Diesel Since his Childhood (Part 1)
Becomes "The man worths 6 billion USD"
As if he was compensated after his disadvantages, one of the people who were in the screening room at that time included the famous director Steven Spielberg. This legendary filmmaker was looking for a face for his upcoming epic war movie Saving Private Ryan and Vin Diesel immediately caught his eye.
Saving Private Ryan became a hit after hitting theaters in 1998. It won five Oscars and grossed $482 million worldwide. Besides two stars Tom Hanks and Matt Damon, the audience was also impressed by Vin Diesel in the role of Adrian Caparzo.
The image of a young soldier collapsed beside the keyboard after successfully rescuing a girl, surrounded by blood flowing into the rain, has remained in the minds of many people until now.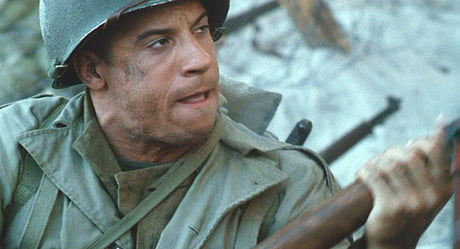 The role was small, but it helped Vin Diesel to make many Hollywood producers keep an eye on him. He continued casting as the anti-hero character Riddick in Pitch Black and Xander Cage in xXx, which were two branding movies making his name rise to fame.
In 2001, he appeared in Fast & Furious, a racing movie with the original idea of gathering a multi-ethnic cast. As a result, the only "white actor" Paul Walker in this movie became a "misfit". Fast & Furious became one of the most successful series in history, with a total turnover of 9 parts amounting to 5,891 billion USD worldwide.
In 2017, Forbes called Vin Diesel as "The man worths $6 billion" when the total ticket sales of movies which he had participated in had surpassed this number. This nickname clearly demonstrated the power of Vin at box offices. 
Sentimental giant
It is a fact that if Vin Diesel just owned enduring efforts, it would not enough for audiences to love him as much as they still do now. With a rough appearance and a frightening voice, Vin Diesel immediately could erase those unfriendly impressions with a close and innocent smile like a child.
He is one of the most popular stars on social media, with 97 million followers on the official Facebook page, beating Will Smith's 77 million. The reason for this popularity is that the actor is diligent in interacting with his fans. Vin Diesel always knows how to create warmth to shorten the distance between himself and his fans.
Despite being open about himself, Vin Diesel is very tight-lipped about his family. He told Hollywood.com: "I want the audience to focus on my career. You know, I'm not an actor putting my whole family on covers of magazines."
In 2004, Diesel told USA today that he did not want to get married early. "I'm still keeping what Tom Hanks had adviced that the age of 30 to 40 are for the career. I still have 4 more years. After that, I considered family matters ".
True to his words, in 2008, when he was 41 years old, the press reported that he and his girlfriend, Mexican model Paloma Jimenez, had their first daughter, Hania Sinclair. Since then, they had lived together as a family and had two other children, Vincent and Pauline Sinclair.
Because he didn't have a biological father since he was a child, Diesel considered very carefully before having a baby. The actor once jokingly told People newspaper: "The craziest adventure I've ever done? It's to become a dad."
He also always gives his partner sweet compliments. "She is a perfect mother, and is always great in different ways. Other people may see that she is gorgeous and beautiful, but few people know that she is my prop. She is beautiful in both appearance and soul", Diesel shared.
Besides, there were also times when Diesel reveals himself as a sentimental person. He had a special friendship with co-star Paul Walker not only because they got on well with each other  but also because of another reason that's even more surprising. Vin Diesel once told Variety: "Let me tell you guys. I have a twin brother. And you know what? He looks exactly like Paul Walker. "
Perhaps Vin Diesel was a bit over when making this comparison but it showed how affection between him and Paul Walker was. And perhaps because of that, Diesel had bad feelings about the death of his close colleague.
While filming Fast 7, Diesel shared the truth: "No matter what people say, this type of action movie is dangerous for actors. I am starting to wonder how it would affect Paul Walker, if I were in an accident."
In another interview with Variety, Diesel shared that after filming a scene, he went to Walker's rickshaw sitting and said, "If an accident happened to me, tell other people I'm your intimate brother." The two then separated aways to return to the Thanksgiving holiday.
However, in November 2013, Paul Walker unfortunately died in a car accident on his way to charity, leaving many regrets for his fans and relatives, including of course Vin Diesel.
"That moment has come in my mind countless times. It was the last time we saw each other," Diesel said, hiccuping. There were tears in his face.
The name Pauline of his youngest daughter is a tribute to his departed brother. The actor shared this was a way for him to keep the memory of Paul Walker as his family member.
Please follow and like us: