1. Lewis Wilson
Lewis Wilson, born in 1920, was the first Batman in a film series of 15 eposides named "Batman", which was released in 1943. This series told about the war between Batman and Dr. Daka (Carrol Naish played), a Japanese spy. This product was successful in the US and made the name of Lewis stand out. After series Batman, Lewis played 8 films within 2 years but did not leave impression. In 1954, the actor left his acting career and worked for a food company in North Hollywood, California (US).
2. Robert Lowery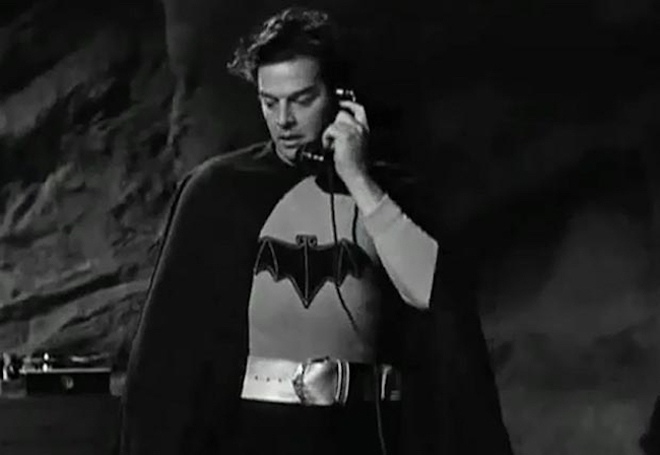 Robert Lowery, born in 1913, was chosen to alternate Lewis Wilson in part 2 of Batman released in 1949. Before Batman, Robert was a similar name at Hollywood with many films such as The Mark of Zozo, The Mummy Ghost. The acting of Robert got a lot of compliments when comparing with the predecessor Lewis.
3. Adam West
Adam West, born in 1928, was a well-known comedienne in the US in the mid 20th century. In 1966, he received the role of Batman in film series named Batman of ABC Channe. Being different from normal superman, the character Bruce Wayne of Adam satirized and overstated. According to Variety, due to the link with Batman symbol, Adam West could not improve his career. He used to share: "What is the meaning of Batman for me? Only money. Battman used to prevent me from many great characters. Nobody wanted to be risky to let me act other characters because audiences would distract the story."
4. Michael Keaton
Michael Keaton played the hero in two movies Batman (1989) and Batman Return (1992) of film directorTim Burton. The role got a lot of compliments from experts and audiences. Variety magazine remarked that Michael could show many complex psychological consequences of Batman, a hero containing inner aspect instead of only fighting and using modern weapons. After 2 movies, Michael's career was a little bit decrease. In 2014, he played main role in a movie achieving Oscar award "The best movie" named Birdman, which told about actor having the career attaching to superman role. Alejandro Iñárritu, the film director, revealed that he chose Michael because he was really suitable with the character.  
Please follow and like us: