It is said that Tom Holland is a current sweetheart of Disney when he had joined many movies of Disney at least in voice actor position.
1. Spies in Disguise 
This movie was the cooperation between Blue Sky & 20th Century Fox. It told the story around an advanced spy Lance Sterling (dubbed by Will Smith). In his mission, he must work in a team with a talent science genius, Walter Beckett, who was very sassy (dubbed by Tom Holland). Both of them need to combine smoothly to frustrate the schemes of the crafty.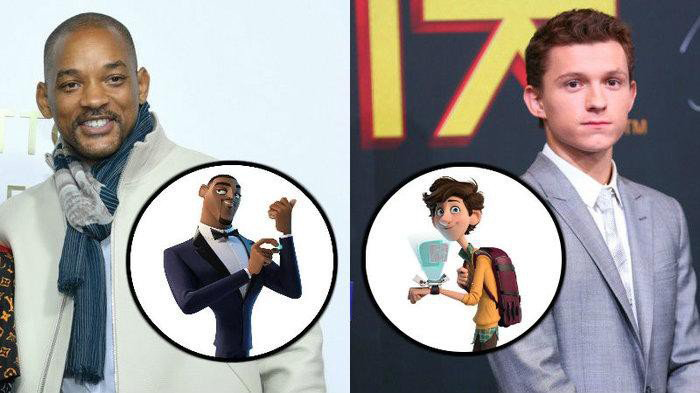 2. The Voyage of Doctor Dolittle 
This movie told the story around Dr. Dolittle, who could talk to animals. After the death of his wife, Dolittle was nearly isolated from the society. One day, the queen suffered a dangerous disease which could be cured only by him. Therefore, he accepted the mission for an adventure to a legendary island to find the remedy. In this trip, he was supported a lot by many helpful and lovely animals. 
Since 2014, Robert Downey Jr has just joined in movie of Marvel and his name attached to Tony Stark. This was the first movie having the participation of Downey Jr. after the end of his famous character Iron Man.  
It was interesting that Tom Holland would have a reunion with "his uncle Tony" in this movie. Although it was a small character, audience seemed to be so excited about Spider-man's participation. He would play the role of Jip, a mischievous dog with a mouth always full of drool. 
3. Onward 
Onward was gained large investment by Pixar, a subsidiary of Disney. It was established by the story of director Dan Scanlon, who used to create the success of Monsters University. Onward told the adventure of 2 elf brothers Barley Lightfoot và Ian Lightfoot when they were given a witch stick which could revive their father within a day. However, becasue their magic was not strong engough, what they could revive were only…their father's legs. 
Besides the dubbing of Tom Holland for character Ian, it was really excited when another gentleman of MCU also joined in this movie. It was "Star Lord" Chris Patt who would be the voice actor for the role Barley!
Please follow and like us: