According to Metro, due to COVID, actor Chris Hemsworth and his family were staying in a luxurious villa in the town of Byron Bay, New South Wales, Australia. The house of Chris Hemsworth costs 20 million USD.
The house of Chris Hemsworth
The villa completed in November 2019 with a construction period of 3 years. People in the area commented that the actor's real estate looks like a fortress or a commercial center.
The house of Chris Hemsworth has an area of about 900 m2 and locates on a land area of more than 4 hectares. It has 5 main bedrooms with 5 bathrooms inside. They are fully equipped with the necessary facilities.
Other prominent living areas include the enormous closet, the indoor bar, or an open kitchen. All of them have an open style for families to eat and enjoy the scenery.
Besides the main mansion, Chris Hemsworth also built an area for skateboarding.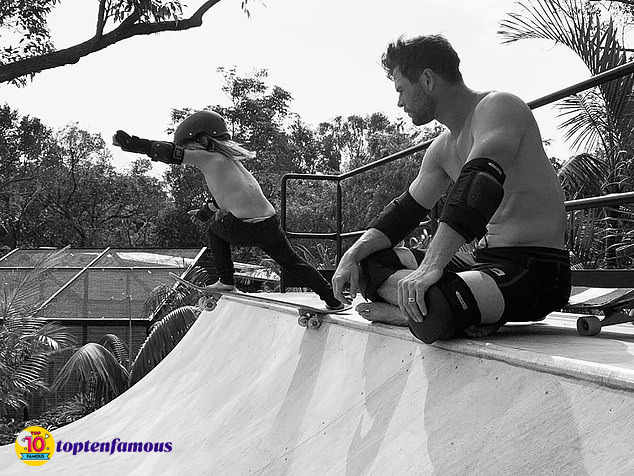 This outdoor skateboarding track is an interesting place for the Australian actor to have fun moments with his children. 
The outdoor pool has a unique design with a length of 50 m. His family often relax in this rooftop swimming pool to admire the vibrant landscape of the Byron Bay town. This infinity pool costs at least $ 400,000.
In addition, there are a number of other utilities to serve the entertainment and relaxation of the Hemsworth family. They include an indoor cinema, game room, spa area, massage room, and sauna.
The spacious green garden is the ideal place to organize intimate parties with friends. Because of being isolated on the hill, the villa also has a 20,000-liter water tank and fire-fighting equipment.
For a movie star, a gym full of modern and high-class workout equipment is an indispensable facility.
The actor hired a local artist to paint a giant painting on the wall to accentuate the interior space of the mansion.
Related: Brothers of Chris Hemsworth: Different Appearances and Careers
Please follow and like us: