Related: Morgan Freeman Then and Now: 10 Excellent Movies of His Life (Part 1)
5. Driving Miss Daisy (1989)
The common point in Morgan Freeman's acting was that he was calm, quiet, and a little unpredictable. However, with his role in Driving Miss Daisy, he was open, talkative, and much closer.
The movie followed the emotional features of a 25-year friendship between Daisy Werthan, a rich Jewish widow, and Hoke, her colored driver. At the beginning of the movie, the accident when driving the car made Daisy's son worried enough to look for his mother a private driver. Hoke was admitted to work under scrutinizing characteristics of an independent woman like Daisy. Misleading events and disagreements between employer and employee occurred. However, through many things, they had built a beautiful friendship despite the huge distance between the two people in society.
The role of the driver Hoke earned Morgan Freeman the first Golden Globe award in his career.
4. The Dark Knight (2008)
Up to now, superhero movies have been considered to be entertained purposes and haven't had any value in content or acting. However, The Dark Knight proved itself to be an exception with 8 Oscar nominations and 2 Oscar awards (one of them relating to acting).
The movie opened with the scene in which Joker robbed a bank of the mafia with many other accomplices. But they were trapped and killed each other before he killed the last man.
Then Batman and James Gordon, his friends, planned to include the new prosecutor Harvey Dent in their anti-robbery team since only he could become a hero publicly, while Batman had to hide his face. However, when Bruce found out that Dent was dating Rachel Dawes, he stopped this plan. After that, Joker then planned to have Dent and Dawes arrested and killed. 
The movie achieved both commercial and critical success when it grossed over $ 1 billion and became the best-selling work of 2008.
3. Unforgiven (1992)
Million Dollar Baby was not the only time Morgan Freeman co-starred with Clint Eastwood. More than a decade ago, both of them had had a performance in the blockbuster movie that went against the high values of cowboy movies in the past. That super product was Unforgiven.
William Munny was a resident of Big Whiskey Town. He was the notorious assassin determined to give up his past to enjoy a normal life with his child.
One day, a man named Schofield Kid (Jaimz Woolvett) came to William Munny because he heard that he was cold-hearted and had no nerves of fear. Schofield tried to persuade William to kill 2 cowboys who attacked a prostitute in Wyoming brutally while they were drunk. Paying for it was a $1,000 gift. William received half of it in advance. Partly because of the need for money, partly because of grievances over the terrible crime, William accepted.
To complete the mission, William asked his old friend Ned Logan (Morgan Freeman) to accompany. Launched in 1992, Unforgiven achieved great success when it won 4 gold statues out of 9 nominations including the best film award and earned $210 million in North America.
2. Million Dollar Baby (2005)
Began acting in 1964 but not until 41 years later, Morgan Freeman won the first Oscar in his career for the role of narrator Dupris in the blockbuster Million Dollar Baby.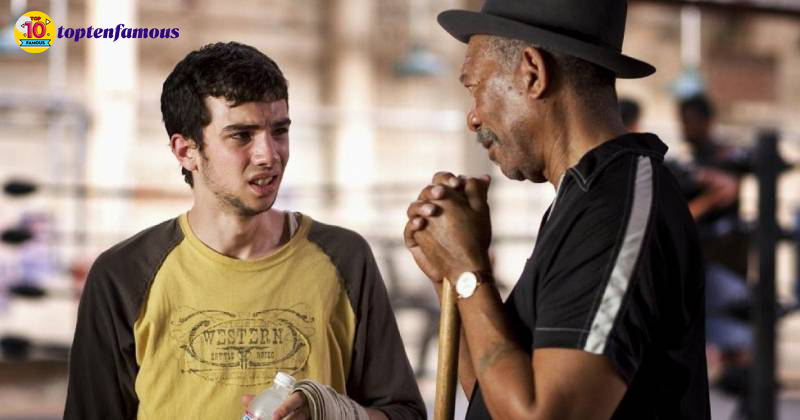 Bộ phim là câu chuyện về hành trình chinh phục giấc mơ quyền Anh của Maggie, cô bồi bàn nghèo khó nhưng có ý chí mãnh liệt. Người giúp cô là ông bầu Frankie Dunn tài năng và nhiều kinh nghiệm, cùng với Eddie là phụ tá và cũng là bạn thâm niên của Frankie Dunn.
The movie was the story of the dream of boxing of Maggie, a poor but strong-willed waitress. The person helping her was talented and experienced Frankie Dunn with Eddie who was Frankie Dunn's assistant and senior friend.
Morgan Freeman played the role of Eddie, one of the important roles. Frankie and Eddie implemented each other's missing sides of a man as well as a gladiator. Eddie often appeared at crucial moments of the movie, such as when he secretly gave Frankie technical instructions to Maggie or when he reminded Frankie of the dangers of his career. Eddie's power was deep inside. It only appeared when needed.
1. The Shawshank Redemption (1994)
Gaining 7 nominations at the 1995 Oscar, but The Shawshank Redemption went empty. Furthermore, the revenue could not make up half the cost of making the movie. Although it did not make the producers happy, over time, the film had proved its great value and was known as the "great failure". This was also the movie with the highest score IMDB history with a rating of 9.3 / 10.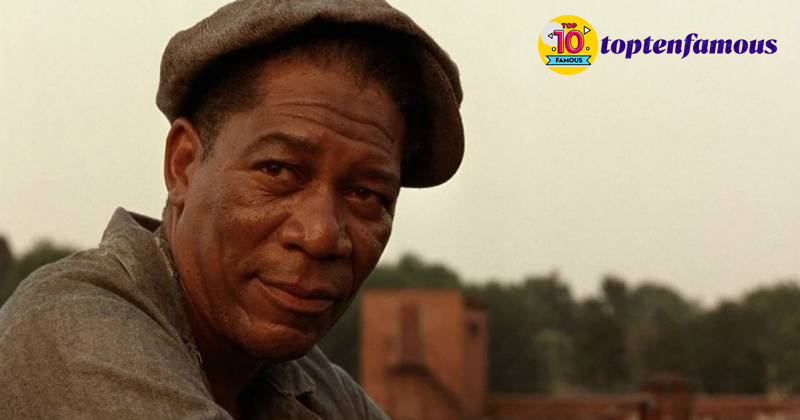 Shawshank was the prison name where Andy Dufresne (Tim Robbins) was sentenced to life imprisonment for being the only suspect in the shooting case of her wife and mistress.
When convicted in 1947, Andy was a successful bank employee and that sentence was probably the end of his life. But no, the thoughtful man was persisted enough to adapt to life in Shawshank without complaining.
In the prison that "everyone was innocent", Andy made friends with other prisoners. They were the old book deliveryman Brooks (James Whitmore), and the talkative Heywood (William Sadler). But the most outstanding was his friendship with Red (Morgan Freeman), a life-imprisoned man. He was capable of taking rare items outside for prisoners.
The movie saw Morgan Freeman's third Oscar nomination in his career. In addition, it showed the depth of Freeman's acting even though he continued being as calm and wise as ever. This was also the role that brought the most emotion to the viewers with many scripts that had become classics.
Please follow and like us: