Heath Ledger was born on April 4, 1979, Australia to mother Sally Ledger Bell, a French teacher, and father Kim Ledger, a racecar driver and mining specialist. He and his sister, Kate, were reportedly named after two main characters in Emily Brontë's Wuthering Heights. He also had two half sisters: Ashleigh Bell and Olivia Ledger, both of whom were born into his parents' second marriages. But Ledger's closest family relationship was with Kate, credited for spurring his acting career.
It was around age of 10 that he found an interest in becoming a stage performer, as he performed the lead role in Guildford Grammar School's production of Peter Pan. Unfortunately, while Ledger was enjoying this busy life of a 10-year-old, his parents found themselves growing apart. That year his parents would separate, before getting divorced when Heath was 11. Ledger found emotional release in acting, choreography and dance and continued seeking out roles in his grammar school. He also tried his hand on the big screen as an extra in the movie Clowning Around. At age 16, Ledger completed his early graduation exams, and he traveled cross-country to Sydney to pursue an acting career with his longtime friend Trevor DiCarlo.
After various small roles on television, Ledg
er's feature film debut came in 1997 in the emotional drama Blackrock and In 1999, Ledger was fully exposed to an international audience with his breakout role opposite Julia Stiles in 10 Things I Hate About You. The was a cult success among younger audiences film. Despite his young age and relative inexperience, he was soon beating out the Hollywood elite for major roles in blockbuster films. Mel Gibson cast him as his son Gabriel Martin in The Patriot (2000.) His talent was tested in the lower-budget Monster's Ball (2000) opposite Billy Bob Thornton. And the highly experimental A Knight's Tale (2001) displayed Ledger's abilities as a true leading man.His exposure
in these films, coupled with his growing reputation as a Hollywood playboy, led People magazine to name Ledger one of it's "50 Most Beautiful People" in 2001.
'Brokeback Mountain'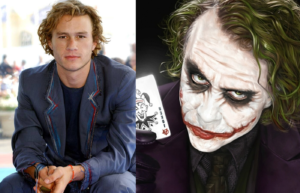 Ledger received "Best Actor of 2005" awards from both the New York Film Critics Circle and the San Francisco Film Critics Circle for his performance in Brokeback Mountain. In the film, Ledger plays ranch hand Ennis Del Mar, who has a lifelong love affair with aspiring rodeo rider Jack Twist, played by Jake Gyllenhal. He also received a Golden Globe nomination for Best Actor in a Drama, and an Academy Award nomination for Best Actor for his performance for the youngest.
It was on the set of Brokeback Mountain that Ledger met actress Michelle Williams. The two began a whirlwind relationship, and their daughter, Matilda Rose, was born on October 28, 2005 in New York City but problems with paparazzi in Australia prompted Ledger to sell his residence in Bronte, New South Wales, and move to the United States, where he shared an apartment with Williams in Brooklyn, from 2005 to 2007. In September 2007, Williams' father, Larry Williams, confirmed to Sydney's Daily Telegraph that Ledger and Williams had ended their relationship.
What is it that made Heath Ledger's "The Joker" so very special?
In 2008, after completing filming on Christopher Nolan's The Dark Knight, Ledger died as the result of an accidental prescription drug overdose. But no one can denied that his roles in Joker is the best super villain all the time, despite of his death, until now, it's so hard to figure out some one can bring to Joker fan a special feeling, beating Heath Ledger's role.  He received a posthumous Best Actor Academy Award for his performance as the Joker at this time.
The Joker has been portrayed by Cesar Romero in the 1966 Batman television series; Jack Nicholson in the 1989 film Batman; Heath Ledger in the 2008 film The Dark Knight; and Jared Leto in the 2016 film Suicide Squad. And coming soon at October with   Joaquin Phoenix in roles the character original  story film Joker.
Heath Ledger played The Joker in Christopher Nolan's 2008 film The Dark Knight. Ledger's interpretation of the character – that of a "psychopathic, mass murdering, schizophrenic clown with zero empathy" – was specifically influenced by the graphic novels Batman: The Killing Joke and Arkham Asylum: A Serious House on Serious Earth. In the film, he wears the character's traditional color palette, while his facial appearance includes clown makeup that covers facial scars of a Glasgow smile. This version of the Joker embodies themes of chaos, anarchy, and obsession; he expresses a desire to upset social order through crime, and defines himself by his conflict with Batman.
In the film, the Joker is hired by Gotham City's mob bosses to kill Batman, and announces that he will kill people every day until Batman takes off his mask in public and surrenders himself to police. During his reign of terror, he kills several people in Gotham, including Bruce Wayne's childhood friend Rachel Dawes and scars Gotham District Attorney Harvey Dent's face, transforming him into the insane vigilante Two-Face. Batman ultimately defeats him, but the Joker gloats that he has won "the battle for Gotham's soul" by corrupting Dent, and tells Batman that "you and I are destined to do this forever" as he is taken to Ark ham Asylum.
About Joker roles:
Heath Ledger didn't act, he became the character. Ledger initially wanted to do the Batman and took part in the audition but was rejected by the makers. Later, Nolan chose him for joker because he found Ledger to be fearless just what the character wanted. Ledger wanted to justify the role and make an original version of joker.
He locked himself in a hotel room for six weeks and read all the comics in which joker. This was where he improvised the horrific smile and attitude of joker. He did his own make up. The regular makeup artist was not responsible for this look.
He wanted to make his own look as he didn't want that to look like a professional's work but of a madman's. He went to a drug store and bought cheap makeup and literally did the make-up of his own. The director approved and it was the makeup team's responsibility to recreate the look every day.
He carried "The Joker Diary" everywhere he went. The diary had a lot of disturbing messed up things, horrifying news, stories, pictures of blind babies and many more. He wrote the journal as if he was the joker and wrote all the things that joker might find funny.
He improvised a lot in the movie… He did many unscripted actions that made it to the final cut, from the clapping scene when Gordon gets promoted, to the hospital blast scene. He transformed into the joker to improvise as the joker might have done.
Superhero films have been notoriously overlooked by the Academy, especially in the acting and directing categories for ages. But Ledger still became the only person to win an Oscar for Best performance by an actor in supporting role (posthumously) in a superhero movie. This was a magnificent success that not every actor could gain.
"His version of The Joker is extremely realistic. Unlike Jack Nicholson's Joker who are constantly laughing and making jokes. Heath Ledger's version of the Joker actually possesses a dark side to him. Audiences can feel this dark nature of the Joker when they watch the film. Simply put, his version of the Joker is extremely realistic and utterly insane. If someone insane were to escape from the Mental  Instituition and decides to be the Joker, Heath Ledger's Joker would probably be the end result." – an audiences said.
Hailed as a talented actor with real acting ability, but in real life, Ledger does not have a beautiful image as a career on the screen. It is difficult to accurately depict who he is, even when he got information from the people closest to him. However, more or less, this information also partly makes the public better understand the sudden death of Heath Ledger. It can be said that he succeeded in turning himself from a romantic actor to become the most unique criminal of Gotham city and the history of cinema. However, the price to pay is not small at all.  After completing "The Dark Knight", Heath Ledger had to resort to sleeping pills to be able to feel more relaxed.
In the end, the Australian man died from an overdose of the drug. This is truly a tragic outcome for the talented but unfortunate young man. After Heath Ledger's death, fans published the document "Too Young To Die", including a diary he wrote at the hotel where he locked himself up to study The Joker. The last page of the diary had the words "Bye Bye" in scribbled on him – as a sign of a tragedy about to begin. Another special thing that makes many people shudder is the strange coincidence between the first role and the last role of Heath Ledger. In 1992, Heath had a supporting role when he transformed into an orphaned clown in the series "Clowning Around", although not named in the credit, his first role still made him have many memories. And until 2007, in the last role, Heath continued to be "the clown". Only thing Joker in "The Dark Knight" by Heath incarnate has gone too far into the darkness, making him forever unable to escape.
Please follow and like us: