Complex relationships of Jean-Claude Van Damme had broken his heart many times. This blockbuster star has been married 5 times with 4 different beauties.
1. Maria Rodriguez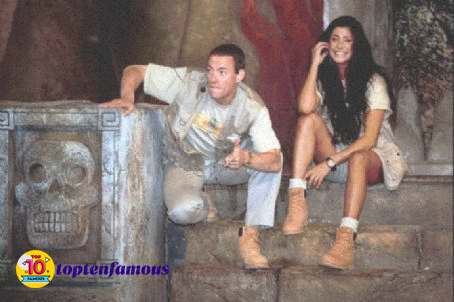 On 25 August, 1980, Van Damme married Maria Rodriguez. Their marriage lasted 3 years. This couple had dated for 2 years since 1978. They divorced in 1984.
2. Cynthia Gibb
After the divorce with Maria, he married Cynthia Gibb. Cynthia and Jean-Claude joined in movie Death Warrant (1990) together. When this marriage ended, he still returned to Cynthia Gibb.
3. Gladys Portugues
Initially, Cynthia and Van Damme broke up. Then he continued marrying a professional bodybuilder Gladys Portugues. They had 2 children together before breaking up in 1992.
4. Darcy LaPier
Soon after, he chose his lover, Darcy LaPier, to become his next wife.
5. Kylie Minogue
During his time as LaPier's husband, Van Damme was promiscuous with pop singer-actress Kylie Minogue. She starred with him in the movie adaptation of the video game 'Street Fighter' in 1994.
6. Gladys Portugues (3rd wife)
After the marriage with LaPier ended, Van Damme returned to Portugues. Currently, this relationship seems to be the most serious one. The marriage of Van Damme and Portugues has lasted from 1999 to the present.
In 2015, Portugues wrote a divorce application. The relationship seemed to be on the edge of an abyss again. However, the couple decided to make peace with each other and withdraw their divorce application.
Related: Jean-Claude Van Damme Then and Now: From a Fighter to a Movie Superstar
Jean-Claude Van Damme's Transformation
Please follow and like us: