3 Popular Relationships of Jackie Chan had included Teresa Teng, Joan Lin, and  Elaine Wu.
Jackie Chan, born on July 4, 1954, in Hong Kong, is a famous martial arts star in China and the world. He is one of the few actors representing Chinese martial arts to step onto the world stage. Despite being the top star, Jackie is very friendly and always takes care of his colleagues and the people around him. Besides, his complex emotional life also appeared on a lot of paper and newspaper.
Pure love with Teresa Teng
One of Jackie's biggest love scandals was his relationship with "the Asian diva" Teresa Teng, a famous Taiwanese singer. In 1979, the two first met each other and gradually developed feelings. The couple even claimed to be fans of each other. They often spent time together after dinner.
The relationship between the two lasted for 2-3 years. At that time, they did not have yachts, luxury cars, and much money. Regardless of the economical difficulties, the famous couple had repeatedly said vows of love under the romantic moonlight. Jackie Chan once confided: "To be honest, the love story between her and me is a heartwarming story."
Jackie considered Teresa was a good girl with an honest personality, and a soft warm voice. He confided: "She even could not step on an ant. In the future, she would be a good wife when getting married."
However, in the process of generating affection, there existed irreconcilable differences and contradictions between them. Teresa loved Jackie so much that she wanted to withdraw from the entertainment industry to returned to a peaceful married life. But Jackie Chan was so interested in acting that he prioritized work first."
Their personalities were also very opposite. Teresa was meticulous and romantic. She always hoped that they would get together soon. While a busy and realistic person like Jackie could not satisfy her. Moreover, Jackie felt that his girlfriend was too noble, he himself was too many shortcomings. "She is so good, and I have nothing". The difference in characteristics was so great and the long distance had gradually made the distance between the couple even wider.
The beautiful love story between two people came to an end after a party of Jackie. After half a year of meeting again, he did not give a little consideration to his girlfriend. Jackie just left Teresa to sit and wait alone. In fact, she waited patiently for a long time but Jackie did not pay any attention to her. She got angry and left him with a saying: "It is enough. I don't want to wait anymore. You just need to take care of your friends up to now".
This incident was the end of the long-term relationship of the famous couple. Later, no matter how much Jackie apologized, Teresa did not accept and refused to meet her ex.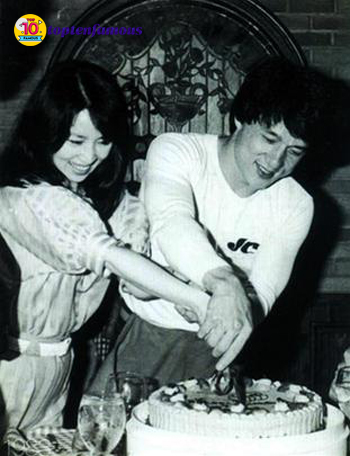 In 1981, Teresa won the Golden Bell Award for the best singer and set a new record. Unexpectedly, the awarder was Jackie Chan. She immediately stepped backward when seeing her ex. Teresa refused to accept the award and cried deeply. Later when Teresa had passed away, when recalling what happened that day, Jackie confided: "I was very heartbroken while everyone was laughing."
Later, the two had the opportunity to meet again in California. Jackie Chan took the initiative to start a conversation with his former lover. The two restored their normal friendship. Before 2 days of Teresa's death, she also called to Jackie's company to find him. Unfortunately, the actor was filming in Japan. So she could not contact him. No one expected that phone call was the last contact between the two.
Jackie once regretted sharing about his love affair with Teresa. He regretted the time when he didn't know how to respect his ex-girlfriend. "Now that I've realized the mistake. Teresa is a real pearl, which I should have loved her very much."
Joan Lin – a devoted wife
Joan Lin was once a big movie star in Taiwan. She won the posterity position at the Golden Horse Awards for her role in the movie The Story of a Small Town. In 1981, the two people fell in love with each other after attending a party together.
Referring to the feeling when he first met his wife, Jackie confided: "Seeing Joan, I immediately knew this was the woman of my life. She was a smart, calm, and very charismatic girl."
Joan also shared why she had chosen Chan. "That day, he was always dedicated to his work. Being so bright that why I loved him. At that time, many people reminded me that there was no woman who could be with Jackie Chan for long. But I believed that if we could be together for a long time, he would understand what kind of person I was. He would see the difference between me and the other women. We decided to live together, shortly after that I became pregnant."
Related: 3 Popular Relationships of Jackie Chan (Part 2)
Watch more: The Transformation of Jackie Chan
Please follow and like us: